Iao Valley State Park, Maui:
Botanical Gardens
Looking for an easy way to see the beauty of Iao Valley State Park, Maui? The botanical gardens located here will be perfect, especially if a hike through the forest isn't for you!
These lush gardens are laced with paved pathways to explore, and plenty of seating areas where we were able to sit down and take in the beautiful views! I should mention that the paved walkways and rest areas make this a great stop for families with children too!
The botanical gardens were beautiful, and featured native Hawaiian plants. There were also a few scenic lookouts - the most popular lookout shows off a great view of the famous Iao Needle.
If you want to check out the Iao Needle from this area, all you have to do is follow a short 0.6 mile path - although you may find some stairs along the way, it won't be too hard for most people.
We also found some nice views of the Iao Stream as it gurgled past us!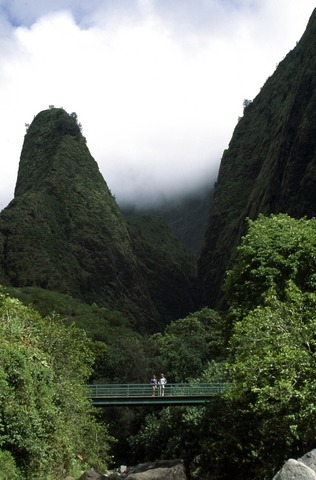 Great News for Your Budget!
Oh, and I almost forgot to mention that if you're on a budget, exploring these Maui botanical gardens will be ideal!
Why?
Because it's FREE!! You've gotta love THAT!
Directions
These Maui botanical gardens are located up the Iao Valley Road, a little ways past the Hawaii Nature Center. There is lots of free parking available too!
More articles of interest:
Read more about fun things to do on Maui to relax!
Go to Homepage
---
Did you find my site helpful?  Please spread the word and share it with others!


---