Black Rock, Maui:
Snorkeling off Kaanapali Beach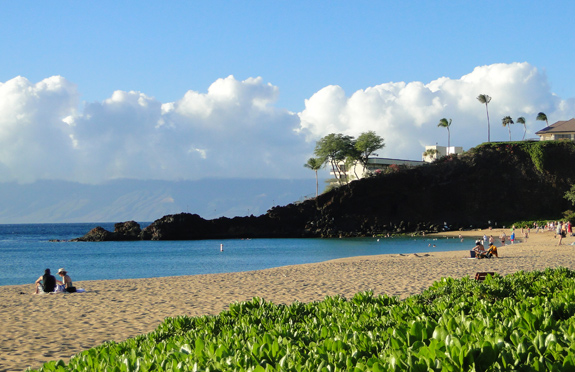 Black Rock Maui snorkeling is a fabulous way to spend a morning on the glorious Kaanapali Beach! This area is teeming with fish and other marine life, and ridiculously easy to access.
Prior to going there for the first time, we weren't sure what to expect. Would the snorkeling in Maui here really be as amazing as people say it is? Would it be suitable for inexperienced snorkelers like we were at the time?

The answer to those questions are YES and YES!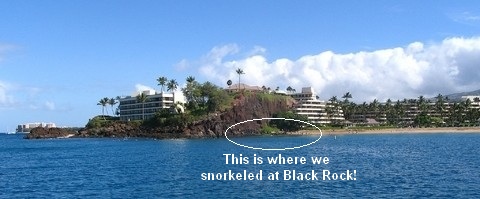 Reviews for snorkeling at Black Rock Maui...
For me, the main thing that made Black Rock such an amazing spot for snorkeling in Maui was the fact that fish abounded here! They were everywhere you looked, and I didn't have to stray very far from shore to see them!
Also, the first time we came here, we were staying at the Royal Lahaina Resort right there on Kaanapali Beach... Black Rock was just a very short walk down the beach for us - Maui snorkeling doesn't get any more convenient than that!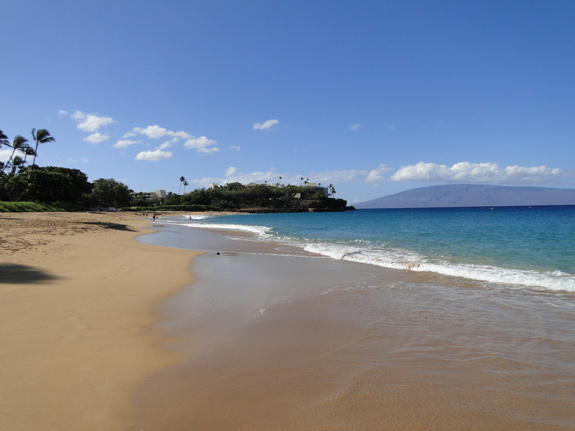 As for being inexperienced snorkelers, I thought this snorkel spot was great for that too! Because there were so many fish here, we didn't have to try very hard to get close to them for a good look.
Add to all that the fact that it cost us absolutely nothing to snorkel here, and we were sold!
The Daredevils are Out to Play!
Are you a daredevil?

Or, like me, would you rather just watch them?

It's a common sight at Black Rock to see people leaping off the top of it into the ocean.  I'm not recommending that YOU do this, and if you do, it's at your own risk!

However, I thought you might enjoy seeing a photo of the goings on: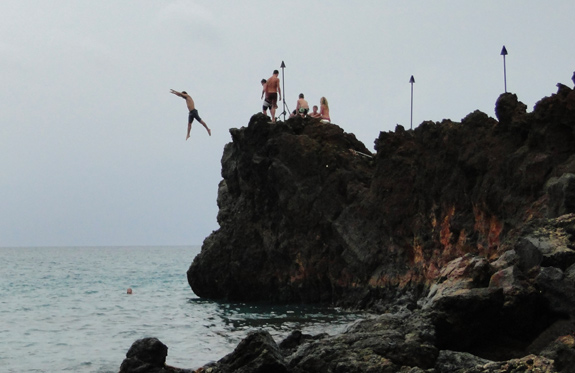 Black Rock Maui Snorkeling Tips
1) Don't snorkel too close to the point. Black Rock juts out into the ocean and a lot of people are tempted to swim up around the point to snorkel there. Please don't. That area is prone to rip currents and people have been known to get caught up in them and never be seen again. As long as your are careful to snorkel close to the beach like we did, it will be much easier for you to stay safe!

2) Snorkel with a partner so you both will have someone to keep a close eye on you in case one of you gets into any kind of trouble. It's not that snorkeling in Maui here is necessarily any more risky than other places... but hey, it's a good habit to keep whenever you're in the water!
3) It can get very crowded on the beach directly in front of Black Rock, Maui. If you plan on hanging out here to sunbathe and swim too, plan on parking your beach blanket a little bit further down Kaanapali Beach so you'll have more space!
Don't Miss Out on Snorkel Tours
While Black Rock is a great place to snorkel right off the beach, there are plenty of other fantastic spots that are only accessible by boat.  And this is where snorkel tours come in.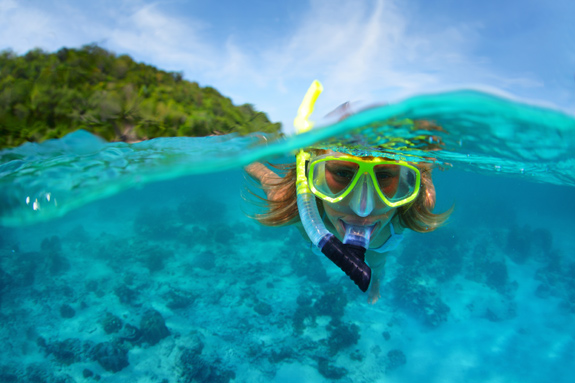 The snorkel tours I've been on have been highlights of my time in Maui, and I highly recommend that you go on at least one of them if you enjoy snorkeling.

Whenever possible, I buy my own tickets from Barefoot Tours.  

Here are a few of the reasons why I like them, and why I recommend you book through them too:
they have a low-price guarantee, so if you find a lower price (before you book obviously), just let them know and they'll match it
booking everything in one place means if you have any questions, there is only 1 company that you ever need to call or e-mail about it - this is one of my favourite things about booking with them - it simplifies my life!

they're a company I trust to treat you right, a local company that's been in business for many, many years
I do make a small commission if you use one of my links to book through them - it's not a lot, but it helps to pay for the expenses of running this site, and doesn't cost you anything extra.  So if you use one of my links to book through them, thank-you SOOO much - I can't tell you how much I appreciate your support!
---
More articles of interest:

1) Our favourite stretch of beach is just a short away. It's the perfect spot to hang out after you've finished snorkeling in Maui at Black Rock... Click here to find out why we love this particular stretch of Kaanapali Beach, Maui so much!
2) Molokini Crater snorkeling was one of our favourite snorkel trips in Maui! Click here to read more.
3) Our Hulopo'e Bay Dolphin and Snorkeling Adventure on the Island of Lanai, Hawaii
Go to Homepage from Black Rock Maui Snorkeling
---
Did you find my site helpful?  Please spread the word and share it with others!


---