Molokini Crater Snorkeling Review

This page may contain compensated affiliate links. For more information, please read my disclaimer.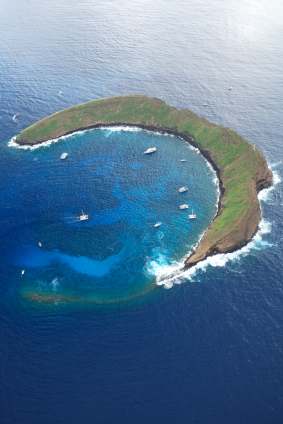 As is usually the case for our snorkel trips in Maui, snorkeling at Molokini Crater had us up bright and early.  We had to make it to Maalaea Harbour on the island's southwest coast by 6:45 am.

Normally we don't like to get up so early, but one of the tips we'd learned while researching this ahead of time was that morning is the ideal time to go.
Also like most morning snorkel trips in Maui, our tour included continental breakfast to get our energy up for the Molokini crater snorkeling that was to come.
---
Book a snorkel tour and read reviews!
---
Turtle Town Gets the Axe...
This trip was also supposed to include a side trip to "Turtle Town" but one of the first things our boat captain told us upon our arrival was that we would not be able to make it to Turtle Town after all. The weather conditions were not suitable for snorkeling at that location - plus, the water was cloudy there, making it more attractive for sharks.
This was disappointing, but since we couldn't control the weather, we had to make the most of this trip to Molokini Island even without Turtle Town!

On the bright side, we were still going to be able to experience Molokini Crater snorkeling, which is some of the best in the world! The water here is calm and crystal clear which allows for brilliant views of the coral and the marine life!
Snorkeling in a Dormant Volcano

Not sure yet if maybe one of those OTHER snorkel trips in Maui would be more fun? Well let me ask you this then...
Will any of those other snorkel trips in Maui take you snorkeling in a dormant volcano?
Molokini Island is actually the crescent-shaped edge of a volcanic crater. The crater's floor is submerged about 35 feet below the surface, providing a perfect spot for snorkeling, even for beginners! The small cove above the crater floor is sheltered from the force of the ocean leaving the waters at Molokini crater calm and perfect for snorkeling!
Who would have thought that a dormant volcanic crater would make such a great spot for snorkeling!
Once we got into the water, we were thrilled to see all of the fish swimming around us! We found that if we allowed ourselves to drift away from our group a bit, the fish were less skittish and would swim right up to us!
How cool is that!
It was absolutely amazing to see so many fish swimming so close to us!
So Glad I DIDN'T See THIS at Molokini Island!
After seeing just how close we could get to the marine life here at Molokini Island, I must say that I was VERY relieved when I didn't see any eels or other such scary creatures, as I'd read that they did, after all, live here in the crater!
Just for your own future reference, here is a shot of a Moray Eel at Molokini: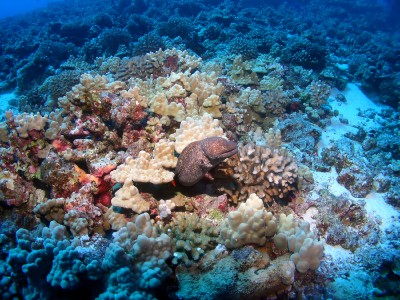 Obviously I can't take credit for this pic... if it had been ME who had spotted this thing, there's no way I would have stopped for a picture! Instead, I would have been a blur as I raced back to the boat in terror! I know... I'm a wimp...
Time to Eat!
Molokini Crater snorkeling really worked up our appetites, so after we'd snorkeled to our hearts content, we climbed back onto the boat for a delicious buffet lunch and cold beverages.
This was the first of our snorkel trips in Maui, and I thought we were off to a great start with the incredible underwater sights of Molokini Crater snorkeling, full bellies, and warm Maui sunshine!
If you've decided to try Molokini snorkeling, you'll want to check out my top tips for making the most of your Molokini snorkeling experience.
Whales Under the Lani Kai
2011 update: Since we had so much fun aboard the Lani Kai, I always keep my eyes open for news involving them. Check this out...
Some lucky passengers on the got to see whales so close to the boat that the captain had to shut down the engines! How cool! (The best part of this video starts about 1.5 minutes in...)
Where Should You Book Your Tickets

Personally, I love Barefoot Tours for this.  Whether I want to go to a luau, whale watch, sunset cruise, or tour the island, they always have something that suits me.

Here are a few of the reasons why I like them, and why I recommend you book through them too:
they have a low-price guarantee, so if you find a lower price (before you book obviously), just let them know and they'll match it
booking everything in one place means if you have any questions, there is only 1 company that you ever need to call or e-mail about it - this is one of my favourite things about booking with them - it simplifies my life!

they're a company I trust to treat you right, a local company that's been in business for over 40 years
And I'm not gonna lie - I do make a small commission if you use one of my links to book through them - it's not a lot, but it helps to pay for the expenses of running this site, and doesn't cost you anything extra.  
Check out available activities here.
To book the Molokini Crater Snorkeling Trip that we went on, click here. 
Did you find my site helpful?  Please spread the word and share it with others!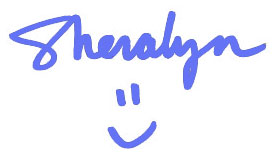 ---