The Aston Paki Maui:
"Value-Priced" Condos in Maui
This page may contain compensated affiliate links. For more information, please read my disclaimer.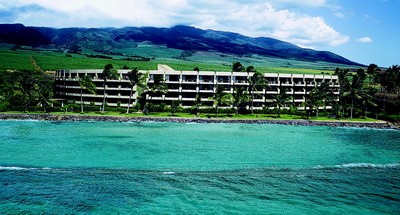 Search for best rates and see reviews!
The Aston Paki Maui is an option that's worth a look if you're wanting budget Kaanapali hotels or condos in Maui.
This 112 room, 2.5 star oceanfront property is still fairly close to the main Kaanapali Beach Resort area, but is typically much less expensive than what is found there.

Get rates and read reviews...
Amenities at the Aston Paki Maui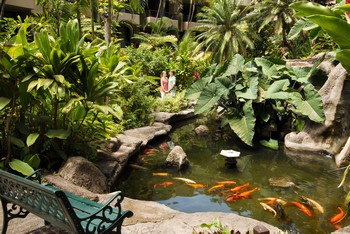 The grounds are beautifully landscaped with koi and waterfall ponds, and of course, being on the ocean, there are the ever-present breathtaking ocean views.
On-site amenities that are free and available to all guests include a BBQ area, jet spa, and a swimming pool. Beach lovers are also sure to enjoy the Honokowai Beach Park that's adjacent to the property. If you love to snorkel as much as I do, you'll be glad to know they say the snorkeling is pretty good in the protected reef area in front of the resort - it's great to have a nice snorkeling spot so conveniently located!
For a fee, guests also have the use of their laundry facilities, dry cleaning and internet kiosks.
Speaking of fees, do you know what is kind of cool about this place?
Unlike pretty much all of the other Kaanapali hotels and condos in Maui, at the time of this writing, this property does NOT charge a fee for parking!
Condos in Maui:
Suites at the Aston Paki Maui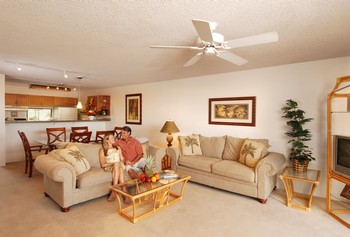 Each of the condo rentals in Maui here are non-smoking. To keep the condos cool, there are ceiling fans in each of the units. Maui's trade winds do a great job of cooling things off as well! Other amenities include:
balcony or lanai
daily maid service
fully equipped kitchen
internet access
There are a variety of condo types available here including the 575 sq. ft. studios (max. 2 guests), 610 sq. ft. 1-bedroom 1-bath condos (max 4 guests) and their spacious 1227 sq. ft. 2-bedroom 2-bath condos in Maui (max. 6 guests).
Rates and Reservations at the Aston Paki Maui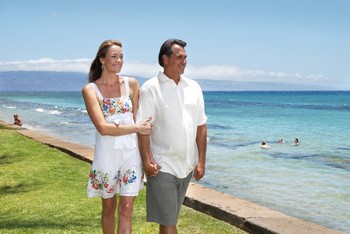 Search for best rates and see reviews!
There are several options for rates and reservations here.
One option is to book a condo that is managed by Aston via a site such as Booking.com.
This option is really nice because they search all of the major travel sites at once, display the results on a single page, and let YOU choose your booking from whatever travel site you're most comfortable with. You can also check out reviews and see more photos of the Aston Paki Maui, plus get rates for any of the other Kaanapali hotels and condos that interest you.
Another option is to book a condo here directly from an individual unit owner. If you go that route, then one of my favourite sites is HomeAway.com. For your convenience, I've included a link to HomeAway.com right here, and I've already narrowed down the search for you to listings with "Paki Maui."
If you want to check out a wider variety of listings, just search instead for something like "Kaaanapali Maui" or even just "Maui!"
Note: when booking a condo directly from the owner, it sometimes won't include all of the amenities that you get for free when booking a condo that is managed by Aston. Be sure to check what's included in the nightly rate before you book!
Mahalo to Aston Hotels for providing the photos used in this article!
More articles of interest:
1) Condo Rentals in Maui: Easy Tips for a Great Deal!
2) Maui Condos for Rent: Top Tips to Avoid a Scam!
3) More on Kaanapali hotels, things to do and places to stay in Kaanapali, Maui.
Did you find my site helpful?  Please spread the word and share it with others!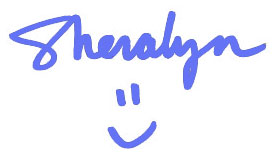 ---