The BEST Guide to Hana, Maui

Hana Hwy mile-by-mile guide, things to do, where to stay (yes, you should stay the night and I'll tell you why!)

This page may contain compensated affiliate links. For more information, please read my disclaimer.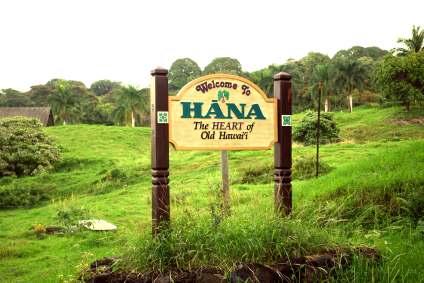 So why did we, along with so many others, take the time to drive all the way to Hana, Maui on our vacation?
Because there are endless knock-your-socks-off-gorgeous places to explore along the way...
Because you'll see some of the most draw-dropping views on the entire island...
Because even if Hana itself is not a big tourist town, the surrounding area is FULL of unique attractions that should not be missed...
It is TOTALLY WORTH THE TRIP!!
In a hurry? Use the Quick Links below to skip ahead!  Or, read through it all so you don't miss a thing!

---
Low-Price Guarantee on Maui Activities and Tours
---
6 Attractions and Things to Do Near Hana, Maui (That You Must NOT Miss!)

There are a lot of attractions near town, and it can be hard to narrow down the list.  So how I about I just start off with the BEST?  Here goes...

1) The Hana Lava Tube: It's a lava tube that's easy and perfectly safe to explore! Need I say more?


2) Oheo Gulch (Seven Sacred Pools: The perfect place to get your swimming-under-a-waterfall fix!

3) Waianapanapa Black Sand Beach: This area is steeped in legend, is absolutely gorgeous, and comes with a sea cave, sea arch and a blowhole!

4) Pipiwai Trail with Hike Maui: An incredible hike through jungle and bamboo forest, ending at a 400' waterfall!


(You can go without a guide too... Click here for answers to your questions about hiking the Pipiwai Trail on Maui on your own.)

5) Hamoa Beach: People say this is one of the nicest beaches they've ever seen. Due to it's tendency to have strong currents, it's not the best choice for swimming, but would be great for just soaking up the views! Drive about 1 mile past town - the beach is down a staircase off Haneo'o Road.

6) Piilanihale Heiau: This is one of Hawaii's largest Hawaiian temples. Turn towards the ocean at Ulaino Road near mile marker 31... Drive past the Hana Lava Tube and you'll see a stream.  If it's not flooded, you can cross it and park beside the road. Pretend you're Indiana Jones and hike through the 122 acre Kahanu Gardens to reach the temple!

3 Bonus Attractions

Ok, so if you've already seen the best, or you're just a really thorough explorer who wants to see everything, then here are 3 more lovely places to check out near Hana:

1) Hana Gardenland: Botanical gardens located along the Road to Hana at mile marker 31, 3.5 miles before you reach Hana.

Kaeleku Caverns Lava Tube

Oheo Gulch (Seven Sacred Pools)

Waianapanapa Black Sand Beach

Waterfall Along Pipiwai Trail

Piilanihale Heiau

We Love Botanical Gardens!
2) Koki Beach: Not a swimming beach due to the strong rip current! But, it's a great place to relax on the sand and drink in the views! (turn left at Haneoo Road approximately 1.5 miles south of town)
3) The Kaia Ranch Tropical Botanical Gardens: Acres of exotic and native Hawaiian plants, flowers and fruits - located at 470 Ulaino Road
---
4 of the BEST Attractions and Things to Do In Hana, Maui
The way everyone waxes poetic about the drive to get here, you'd think there's nothing to see in the town itself.  Not true, my friend!  Sure, the town isn't huge, but there are still a few things you ought to check out before you breeze past it on the highway.

1) If you're an adventurer, then consider a trek to the Red Sand Beach (a.k.a. Kaihalulu): The trail to get here starts right in town and is not for the faint of heart.  If you can make it to the end, you'll be rewarded with a little slice of heaven.

2) If you're a history buff, The Hana Cultural Center and Museum, located at 4974 Uakea Road, is worth a trip.  It was founded by community elders, and features artifacts, photographs, a historic courthouse and jail, a thatch living complex typical of those used by the chiefs pre-contact, and a gift shop.

3) If you're a beach lover, the Hana Beach Park awaits.  This local favourite is a popular spot for swimming, with water that's calm enough to bring your kids.  There are picnic tables available and "Tutus" is just off the beach selling refreshments, sandwiches and ice cream.  From the Hana Hwy, turn onto Keawa Place and follow it to the ocean.

Red Sand Beach

The Hasegawa Store "Greeter"

Hana Beach Park
4) If you need snacks and supplies, The Hasegawa General Store at 5165 Hana Hwy is the best place in town to stop.  This fourth generation family-run business was established back in 1910. The store sells refreshments, souvenirs, groceries and more.  If you're lucky, the "greeters" will be waiting for you outside!  (And I know, this store isn't exactly a typical attraction, but since it's mentioned in almost every guide to Maui I've ever laid eyes on, I figured it ought to be included.  Just so you can say you saw it.)
---
Low-Price Guarantee on Maui Activities
---
Find the Perfect Place Stay in Hana, Maui
So here's the thing.  Most people who "do the Road to Hana" make the mistake of going there and back all in one day - if you do this, there's no way to avoid the fact that you'll miss out on most of the positively glorious things to see and do along the way. 

If you haven't already guessed, this is where finding the perfect place to stay comes into play.  Stay a night (or two!) in Hana and you'll have all the time you need to avoid missing out on the best sights.
The Best Hana Hotels
The 2 largest properties are the 95-room, newly made-over Travaasa Hana, (expensive, but worth it if you can afford it!) and, the more intimate 18-room Hana Kai Maui Resort, which is much more budget friendly (we LOVED our stay here!)

| | |
| --- | --- |
| Travaasa Hana | Hana Kai Maui |
Alternatives to a Hotel

Of course, there are also many bed and breakfasts, as well as vacation rental homes to choose from.  There is a huge range in quality and price with these - you'll find everything from high-end private luxury escapes, to bare bones accommodations for those on a tighter budget.  Whatever you're looking for, there is something out there that'll be just perfect for you!
Read More: Find the Perfect Place: Overview of Hana, Maui Accommodations

---
Directions to Hana, Maui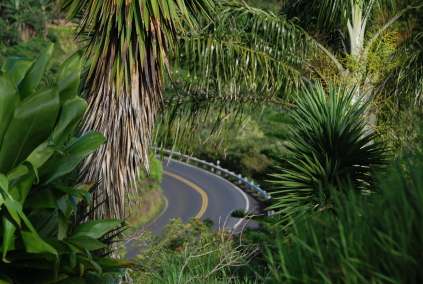 It is located on East Maui. From Kahului, just drive east on the Hana Highway. It starts off as State Highway 360, then becomes State Highway 330 as you reach the eastern side of the island.
Don't miss out on my top 5 travel tips for driving the road to Hana...
And, you may be interested in reading about our experience with driving the famed Hana highway...
---
Mile-by-Mile Guide to the Hana Highway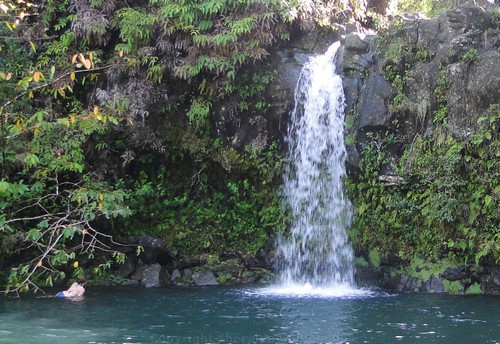 If you'll be heading to Hana, be sure to check out my mile-by-mile guide to the best sights along the way and more!
Part 1: Mile-by-Mile guide to the best things to do along the Hana Highway!
Part 2: Mile-by-Mile guide to the best things to do along the Road to Hana!
Have you heard about driving the southern route to Hana? If you want to give this a try, you'll want to read all about our experience first! And whatever you do, don't wait until the last minute to book your rental car, because if you wait too long, you could be out of luck (they've been known to run out from time to time!)
---
Thinking You'd Rather FLY to Hana, Maui?
Thinking You'd Rather FLY here?
Well, that's an option too! Although this town is small, they DO have their very own airport. But, before you book your flight, there are a few things you should know.
The Hana Airport: what to expect, car rentals, amenities...
Flights to Hana, Maui: cheapest routes, airline choices, where to book...
---
---
---
Did you find my site helpful?  Please spread the word and share it with others!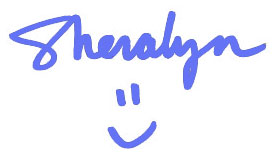 ---