The BEST Beaches in Maui

This page may contain compensated affiliate links. For more information, please read my disclaimer.
I've walked and explored countless stretches of sand to find the BEST beaches in Maui, so you don't have to! 
Here are the best Maui beaches for families, snorkeling, lounging around, boogie boarding, getting married!, cool coloured sand, or just watching the sunset.  And, just in case you're braver than I am, I even included the nude beaches! 
Read it all, or save time and skip ahead via the quick links below!
---
The Best Beaches in Maui for Families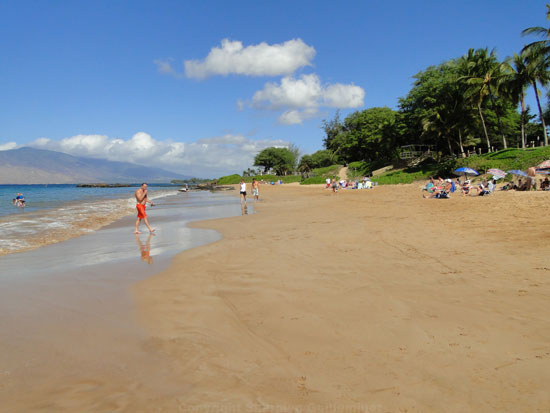 A good family beach in Maui must meet a few criteria:
it's gotta be free of Kiawe trees (they have thorns that are no good for little feet!)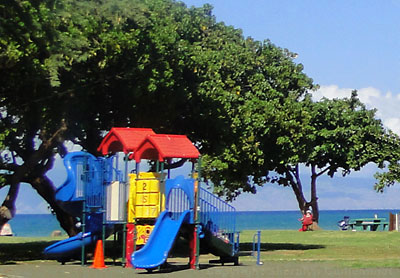 it's gotta have restrooms and showers (to rinse off all that sand)

it's gotta have soft sand that's comfy for little bare feet to walk on, (and good for sand castles!)

Another bonus factor is a playground - it's just a nice option to have!
Coming soon: all the details on a couple of my favourite family beaches: Kamaole Beach III, and Honokawai Beach!
The Best Baby Beach on Maui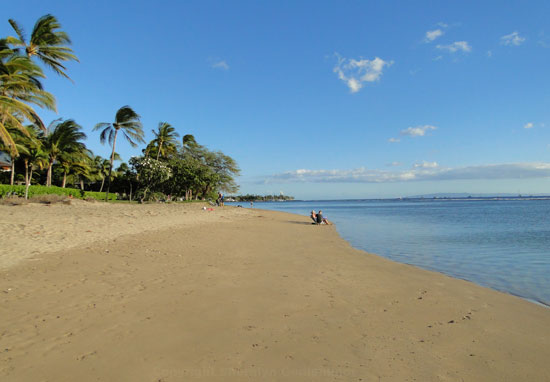 Looking for Baby Beach on Maui?  There are actually more than one of them, and they are great if you're looking for perfectly calm water for your little ones.
They have a lava rock shelf of sorts, a little ways from shore, which blocks the waves so little ones have a safer pool of ocean water to play in.  They are perfect for babies and toddlers since you don't have to worry so much about a large wave coming along and overwhelming them.
Above, is a photo of Baby Beach in Lahaina.
Another option is on the North Shore, I caught it on a cloudy day, but it's beautiful all the same: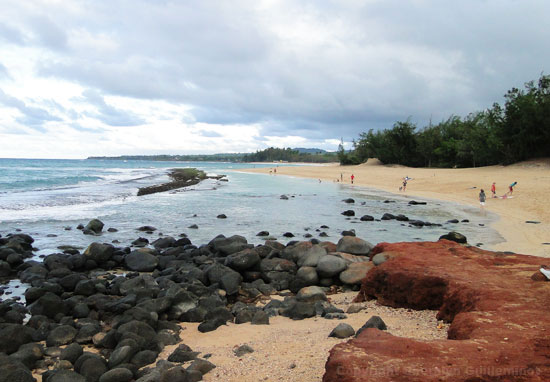 This is the baby beach at Maui's Baldwin Beach Park. 

There's an easier way to get here than the one you've probably heard about, and you should know why this beach isn't quite perfect for little ones after all (No worries, I share a better option for you at the end of that article!)
---
The 5 Best Beaches in Maui for Snorkeling
If you love to snorkel right off the beach like we do, here are my top 5 choices for you. Some of these are not sandy at all... more of a rocky beach... but they are awesome for snorkeling!
---
The Best Beaches in Maui for Suntanning and Lounging Around
I admit to being a bit fickle with choosing the BEST for this category.  Depending on my mood, I may change my answer.  Things I look for in a lounging around kind of beach are access to food and drinks if I want it, and, since I might be there a while, access to restrooms is a must!

MOST of the time, my favourite Maui beach for a day of suntanning and lounging around is this one.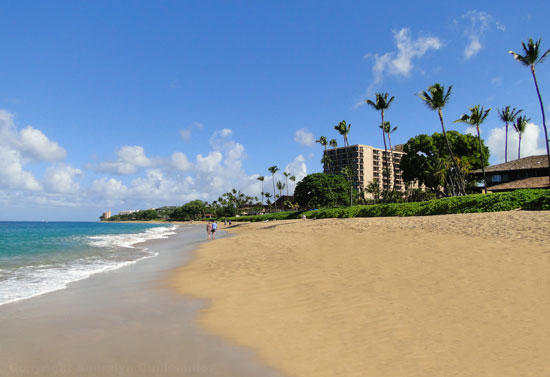 I enjoy the people watching, gorgeous sunsets, and endless excellent stretches of sand to stretch out on.
But since I'm a girl who likes to have options, here are a few more of the best beaches in Maui for a gloriously lazy day - all are located in close proximity to the major resort areas.
---
The 2 Best Beaches in Maui to Get Married On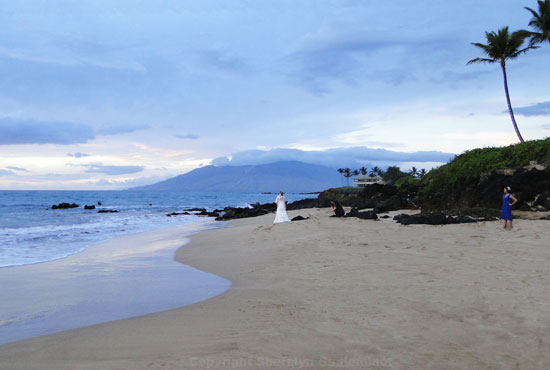 Who hasn't dreamed of a tropical beach wedding right?  If you're planning on getting married on the beach, here are a couple of suggestions for you:
Poolenalena - this south Maui beach is very popular for weddings.  We once saw not 1, not 2, but THREE couples get married there in one afternoon!  (See 2 of those weddings in the photo above and below!)
Poolenalena tends to empty out a lot by sunset (think: more private), has gorgeous sunset views (think: romantic!), and is large enough that you're almost certain to be able to find a suitable stretch of sand for your ceremony.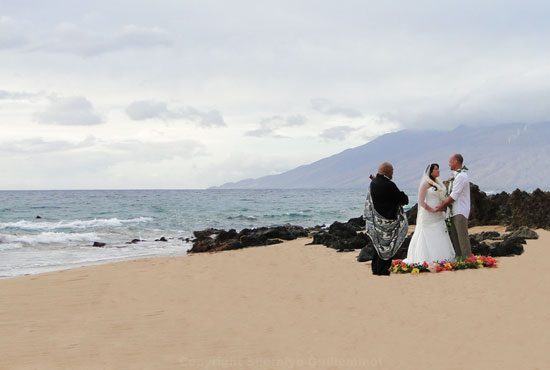 Secret Beach - This is also on the south end of the island.  I've never yet been able to get a photo that does the place justice, but it's a stunning patch of sand framed by palm trees, hidden behind a beautiful lava rock fence.  If you can get this place to yourself, it's the ultimate in privacy for a romantic beach wedding.

---
The 4 Best Beaches in Maui for Boogie Boarding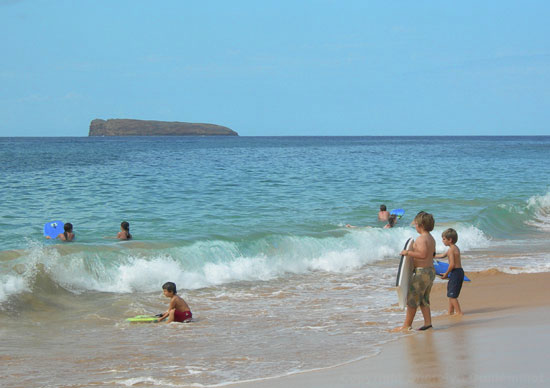 Boogie boarding is so easy, even a kid can do it!  If you've never tried it, you are missing out - time to put an end to THAT, and get yourself on a boogie board ASAP!
The "best" beach for boogie boarding can change from day to day, but these are the ones I'd go for first.
Tip: Your best odds of finding decent waves for boogie boarding will be in the afternoons when the wind and surf usually pick up. 

Kamaole Beach III - Found in the south side's Kihei, you can try any of the 3 Kamaole Beaches, although they say this one tends to be most reliable at producing suitable waves for boogie boarding.  I can't argue with that - almost every single afternoon we were here, we were able to boogie board.

D.T. Fleming Beach - Found in front of the Ritz Carlton in Kapalua, this lifeguarded beach (pictured below) can be great for boogie boarding.  The waves can be rough at times, but at least you'll have lifeguards around to advise you on the wisdom of getting in the water if you're unsure.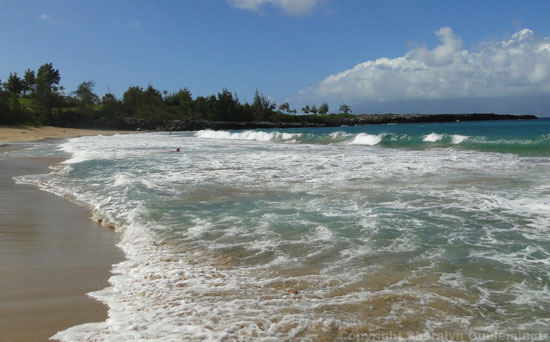 Paia Bay - If you're driving from Kahului along the north shore, you'll find this beach (pictured below) just before the town of Paia, behind the community center.  It's a mostly local beach, but the nice waves make it very tempting for boogie boarding.  It would be a nice way to end an afternoon of shopping in Paia, before you head back to your condo or resort for the evening.
Poolenalena Beach - Found a little bit south of Wailea, this gem is one of my favourites on the entire island, and has some great waves later in the day.  On our last trip here, I boogie boarded until sunset.  Loved it!

---
The 3 Best Beaches in Maui with Coloured Sand

I've always been enthralled with the novelty of black and red sand beaches.  If you feel the same, and would like to revel in the unusual like I do, then be sure to check these out:

Red Sand Beach - This one looks absolutely amazing, but the trek to get there is rather scary if you ask me.  Worth it? You decide.  But, before you go, you must know that this is one of the unnoficial nude beaches on the island.

Waianapanapa - Pictures can't do this place justice - you HAVE to see this one in person!  Not only do you get the black sand beach, but a blowhole, a sea cave, plus legends that only add to the intrigue of the area.

Oneuli Black Sand Beach - The sea cliffs of the cinder cone above the beach make for a dramatic backdrop.  And the best part is that this south Maui beach is out of the way (although easy to get to) and uncrowded.  Perfect for a few hours of peace and quiet in beautiful surroundings.
---
The 2 Best Nude Beaches in Maui
There aren't any.
Well, not officially anyhow ;) Nudity in public is illegal here.

But whether you want to avoid them, or want to join in, it's handy to know where they are.  So without further ado, here are the THE 2 main unofficial nude beaches on Maui: 
Little Beach: Just for you, I was brave and went here take some photos for you, careful to keep the people in their birthday suits OUT of the them!   It turns out that this is actually a really beautiful spot, and getting here is super fun (you get to climb a cliff - but trust me, it's not a scary climb, and that's coming from me, a total wimp!) 
Tip: To be honest, even if you're not into the nude beach thing, I'd recommend doing the climb to get here - you'll be rewarded with an outrageously good view of neighbouring Big Beach.

Red Sand Beach (Kaihalulu): This Hana-area beach has me pining away for it because it looks out-of-this-world-amazing!  But, unlike Little Beach, getting here is kind of scary, and not for the faint of heart.
---
The Best Beaches in Maui to Catch an Epic Sunset

Some of the safest bets for catching an epic sunset on the beach are in South Maui in Kihei, Wailea, and Makena.  You'll get unobstructed views of the horizon from here.  Just head out for a walk or a drive, and pull over at whatever stretch of sand calls your name!
West Maui has some deliciously good sunsets too though.  I'm particularly fond of the little patch of sand beside Cheeseburger in Paradise in Lahaina - you'll often see sailboats silhouetted in the fading light and it's so picturesque! 
Another favourite of mine is watching the sunset from Kaanapali Beach.  Check out the huge ball of fire sinking into the ocean over neighbouring Lanai: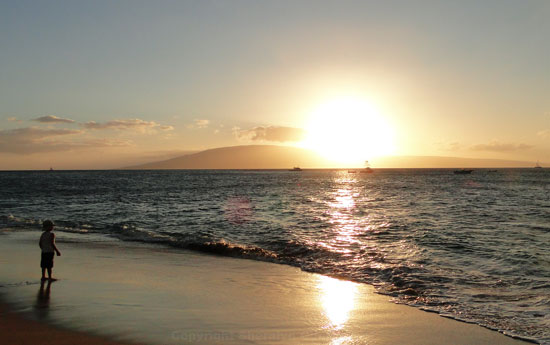 Kaanapali Beach just feels so ALIVE to me at this time of day.  There's the cliff-jumping and torch lighting ceremony going on at Black Rock, people milling about watching the spectacle, and catamarans pulled right up onto the beach to pick up sunset sail-goers. 
If the boats have any empty spaces, you might even get asked if you'd like to buy a last minute ticket to hop aboard (and believe me, it's so tempting to just throw your plans to the wind and hop on, literally, to sail off into the sunset!)

---
Bonus: 2 More of the Best Beaches in Maui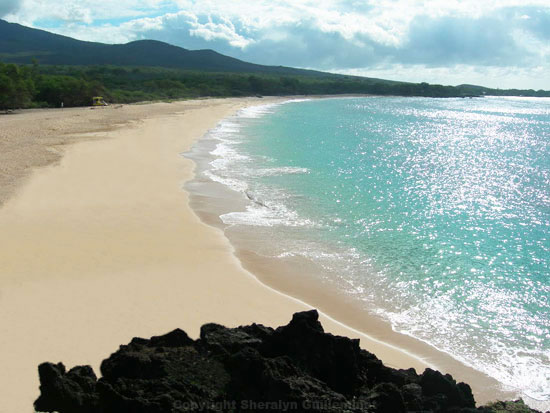 So if you've gone through the best beaches in Maui, but you still want more, then be sure to check out these ones - they are also gorgeous, but I just couldn't figure out what "best" category to put them in:

Nahiku Cove: a wild and rugged rocky shoreline, located in a peaceful, secluded little cove.
Big Beach, Maui: What can I say? This beach (pictured above) is really BIG... a wild and undeveloped gem South of Wailea.
---
Home > Best Beaches in Maui

Did you find my site helpful?  Please spread the word and share it with others!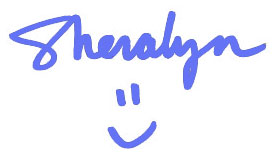 ---