Hike Maui's Hana Waterfall and Rainforest Hike on the Pipiwai Trail: Your Insider's Review

The forbidden drive, a potentially deadly "infinity pool," swimming to a hidden waterfall, the bamboo forest and more...

This page may contain compensated affiliate links. For more information, please read my disclaimer.
Find out if it's worth it to go on Hike Maui's full day Hana Waterfall and Rainforest HIke (Pipiwai Trail). This is your unbiased insider's review and virtual preview of what it's like to have a personal guide take you through some of Maui's most breathtaking spots.
---
---
Here is Where Our Day with Hike Maui Begins...

So the reason why we did this in the first place was because we had never gone on a long hike in Maui before that particular trip, and wanted to do a few things that we didn't feel comfortable doing on our own.

And since a half day didn't seem long enough, we chose the full day excursion, the highlight of which was our 4.5 mile trek along the Pipiwai Trail.

And I've got to tell you, this trail winds through some of the most beautiful and magical scenery we have ever seen! 

Our Day Started Off with Some Astonishing News

So we show up to meet our guide in the early morning light, and we find out something shocking about the only other person who had signed up for this hike with us.
He was an elderly gentleman whose wife had dropped him off and then left in a hurry.

When the dust settled, it became clear that this guy was totally blind. 
His wife zoomed off in such a hurry since they figured if she waited around, it would make it easier for Hike Maui to say he couldn't participate because his blindness would slow things down too much etc.  But with no ride, they were left with the option of canceling the hike while they waited for his ride to come back for him, or agreeing to take him along.

To our guide's credit, she was 100% willing to give him a chance - she also gave us the option of re-scheduling for another day if we wanted to.  Hike Maui had no idea how capable of a hiker he was going to be, and was worried that if he wasn't able to do the hike it would prevent us from getting to do all the stuff that we were supposed to do with our guide.
In the end, after talking with the guy (I'll call him Mike), we decided to go for it.
He reassured us that he was an experienced hiker, and as long as he could follow directly behind our guide with a hand on her backpack, he'd be fine. 
I'll admit I still wasn't sure what to expect - was he for real?  But if he could do this, that would be pretty inspiring indeed.  Talk about overcoming the obstacles that life throws you!!

So off we went!
The Forbidden Drive
THIS was one of the things that made me super excited to be going on this trip.
To get to the trail, Hike Maui would take us on a country road through south east Maui that was BANNED by the rental car companies and were therefore getting a look at a part of the island that we wouldn't have seen otherwise.
On the 2 hour drive, we got to see old lava flows and cool stuff like this cinder cone:

Coastal views with crashing surf...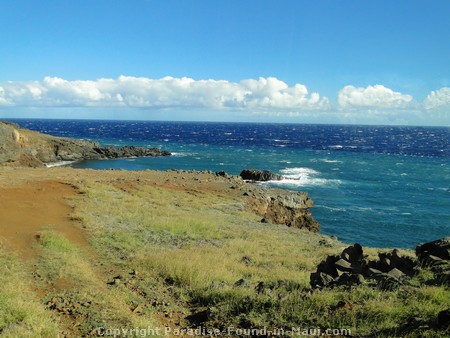 As we got closer to the trail, things turned tropical and lush. Check out Wailua Falls...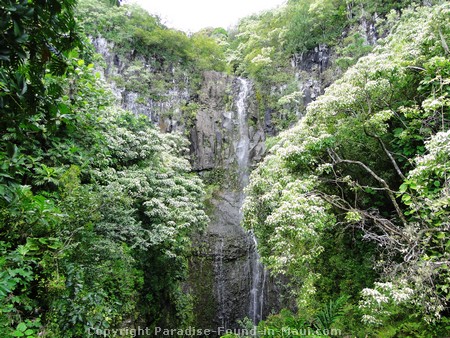 The route were driven on is commonly referred to as "driving the southern route to Hana"... click here to read more...)
The Hike

At last, we made it to the Haleakala National Park ranger station where you start the Pipiwai Trail!

Here is one of my favourite pictures - I know.  It's "just" a cow.  But it's also a cow in a jungle, which, I for one, do not get to see at home (because we don't have jungles there) - so I thought it was pretty cool.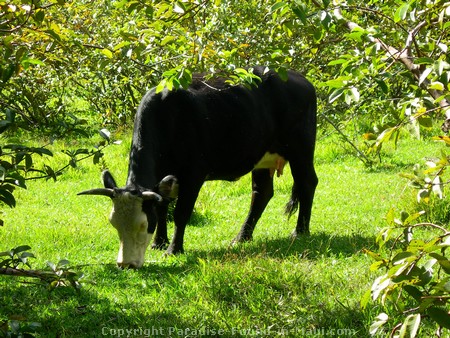 Near the pasture here, there were some wild fruits that our guide picked for us - this made for a delightful snack! And everyone knows that fruits picked fresh and ripe off the tree are always the best, right? YUM!

Add this to the list of things that made me happy we'd chosen to take a guide hike - I wouldn't have known which fruits were ripe enough to pick, nor would I have known if I was even allowed to pick from these trees.

Makahiku Falls and the "Infinity Pool"

Less than a mile into the hike, we came to the 200 foot high Makahiku Falls.

We noticed some people lounging in the pool at the very top of the falls. At the time, I thought they had surely lost their minds since if they slipped, or a flash flood occured, they'd almost certainly be goners.
I later found out that this is the "infinity pool" that's been written about in a well-known guidebook. That explained it! Personally, I think the suggestion to lounge around in this pool is insane and only suited for those with a death wish, but maybe it's just me.

(Scroll down for a video of a flash flood, taken downstream, and you'll see why you ought to be scared of being caught up in one here.)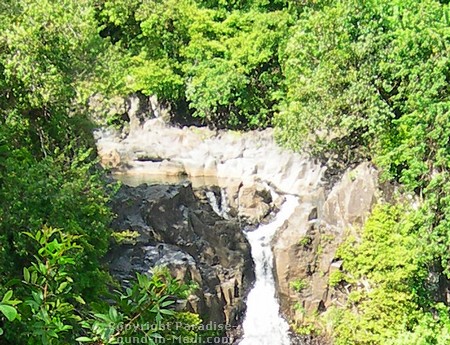 Another thing you should know is that due to a curve in the river a little ways upstream, anyone in this "infinity pool" likely wouldn't see a flash flood coming until it's too late.
Swimming to a Hidden Waterfall

A little ways upstream is the part of the river we would swim to get to the hidden waterfall.
Out of all the things we'd see and do on our Pipiwai Trail hike in Haleakala National Park, this was the thing I'd been looking forward to the MOST!
But first, we stashed our backpacks in a hidden lava tube on the other side of the stream - very cool for a girl like me from the mainland! - then listened carefully as our Hike Maui guide explained that we had to plan an escape up the sides of the stream just in case a flash flood occurred. 
She had checked with the park rangers before we started hiking, and they had confirmed the risk of such a flood was low, but still, the unexpected could happen.
And yeah, I know.  It's somewhat ironic that I went swimming here after I talk about death wishes and the infinity pool, but in my defense, this was a fair bit upstream, so I really did think that if we were unlucky and caught up in a flash flood, we'd have enough time to reach safety before hitting the falls.  It's not like we'd be right hanging out right at the edge of the falls like those other dare-devils, right? 

Anyhow, Mike elected to sit this one out - I was relieved, since I wasn't sure how much help we could be to him in the event of a flash flood.

Our destination...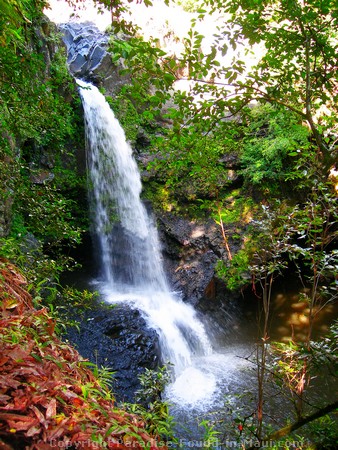 Isn't it pretty?

The fantasy...
My husband and I would lazily swim up the WARM tropical river to a hidden Maui waterfall... how romantic!
Then we'd take our time swimming and relaxing, enjoying our gorgeous surroundings...
Ahhh... life doesn't get any better than this, right?

but...
The reality...
For starters, the water was FREAKING COLD!! As in bathing-in-ice-cubes cold!
I suppose I should have guessed that the water would be on the chilly side, since it WAS flowing down a mountain after all! Oops.
And there can't really be any romance when you're with a guide, freezing, covered in goose-bumps, praying there won't be a flash flood that tosses you like a wet rag over Makahiku Falls...
But we were hell-bent on having our swimming-to-a-hidden waterfall experience.  Scrap the romance.  We'll reframe this experience as a grand adventure instead!

It was definitely worth the swim because this was pretty cool - we arrived at the waterfall, were treading water, looking up at the vine-covered cliffs, and marveling at the fact that we. were. swimming. under. a tropical. waterfall. YESSSS!!!!
But, being the wimp that I am, I couldn't tread water fast enough to keep warm, so we soon turned around to rejoin Mike, dry off, and continue along the trail.

2014 Update: I don't think Hike Maui is taking people to swim in the waterfall anymore.  I've heard that due to too many people taking risks by swimming in the so-called Infinity Pool, the park has now comletely blocked access to that area.

Watch the flash flood video below, and you'll see why...

---
---
Flash Flood Video
This was taken downstream.  You'll be amazed by the HUGE difference in flow that a flash flood can make, and by how quickly it can start!

More Cool Sights

We soon came to this cool banyan tree at an intersection along the trail:
The trail was getting rougher now, but Mike was having no trouble at all - you could tell that he'd done this before since he was incredibly sure-footed.  I'll never again hesitate to hike with a blind person who says they can hike.  This guy was amazing! 
A little ways ahead, we finally reached the bamboo forest.
The Bamboo Forest Along the Pipiwai Trail Was Amazing!
When we got there, it was incredible! And to my delight, the bamboo forest seemed to go on forever!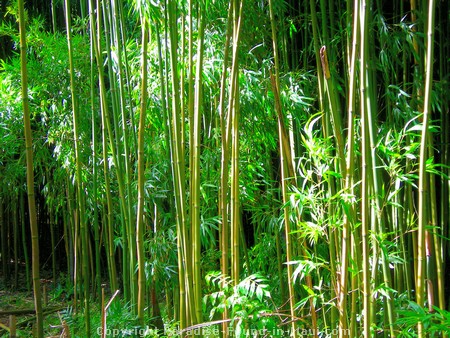 My favourite part of the bamboo forest was when we got to this area: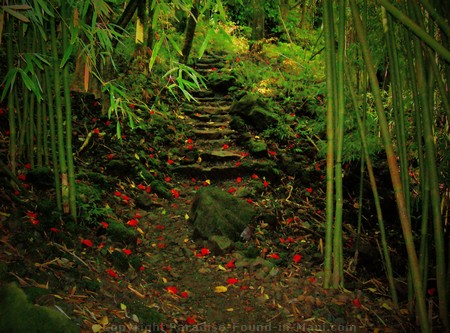 As you can see, the ground was littered with brilliant red flower petals and the sunlight filtering through the forest had a greenish hue to it... I felt like we'd entered some magical place!
Throughout the entire day, we were happy to have our knowledgeable Hike Maui guide with us. She told us a lot about the history of the Kipahulu area of Haleakala National Park that we were hiking in, identified various native plants and trees, plus shared stories of life in Maui.

Waimoku Falls: The Reward at the End of the Trail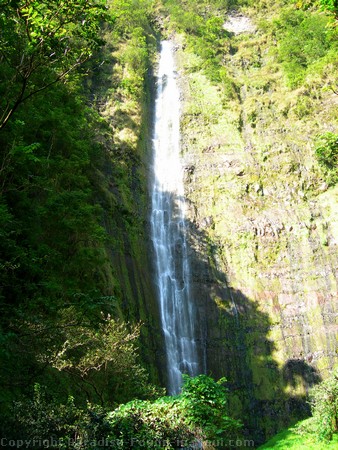 The Pipiwai Trail ends at the 400' Waimoku Falls.  We were advised not to approach too close to the falls due to the danger posed by falling rocks.  Apparently they can fall quite unpredictably, and, well, we can all imagine what happens if said rock lands on you, right?
And it's not just a theoretical risk either - people really have been killed here that way - and I want to make sure that doesn't happen to YOU!  Knowledge is power my friends!

But back to happier topics - the view is amazing, and it's a great spot to settle down and have a picnic.  There aren't any picnic tables, but if you're like us, you won't mind finding a smooth rock to use as a chair.  The views and soothing sounds from the waterfall make it absolutely perfect.  Hike Maui provided the delicious lunch, and it was great to have it taken care of for us.
After we'd had our fill of the views, and lunch, Paul and I zipped back down the trail on our own so we'd have a chance to check out Oheo Gulch before we had to leave. 
Our guide would take her time hiking back with Mike.  Win-win for all of us!

The Verdict on our Blind Hiker

So as far as I'm concerned, Mike was THE MOST AMAZING HIKING COMPANION EVER!  Seriously.  Truth.  For real.

Who would have thought that an elderly blind man would be able to go on this full day Hike Maui adventure over rough terrain, crossing streams, in the jungle, seemingly effortlessly!  You'd have to see it to believe it - I'd hike again with this guy any day.

He was a phenomenal hiker who had no difficulty whatsoever keeping up with us on the trail. He kept one hand on our guide's backpack for guidance, and hiked the Pipiwai Trail better than most sighted people would!
The Verdict on Hike Maui

This trek with Hike Maui along the Pipiwai Trail was truly our favourite out of any of our previous (much shorter) hikes on the island. Not only did we see some phenomenal sights, but our companions along the way were wonderful too! What more could you ask for, right?
Wondering if our great day with them was just a fluke?
I'd say it's more likely that this is just the way they are - excellent!  At the time of this writing, they'd been in business for almost 30 years, have an A+ rating with the Better Business Bureau, and a perfect 5-star rating on Trip Advisor.

Where's the Best Place to Book Tickets for Hike Maui?

If you're interested in going on a guided hike like we did, you can get more information on pricing and reservations for Hike Maui and other options on the Barefoot Tours site.
There are also other shorter hikes available with this company - you can see those there as well.

There are several reasons why I feel comfortable recommending the Barefoot Tours site:
They're a reputable local Maui company who has been in business for over 40 years.
They have an excellent low price guarantee!
They offer a wide selection of activities and tour operators, so I feel confident that you will find what you're looking for!
I use them and have never been disappointed - I love their service and friendly staff
Book your guided hike adventure here!
---
More articles of interest:
---
Home > Things to Do in Maui > Hike Maui
Did you find my site helpful?  Please spread the word and share it with others!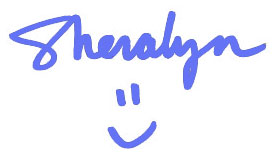 ---