The Honolua Store
This page may contain compensated affiliate links. For more information, please read my disclaimer.
Bargain Meals and Souvenirs in the Kapalua Resort!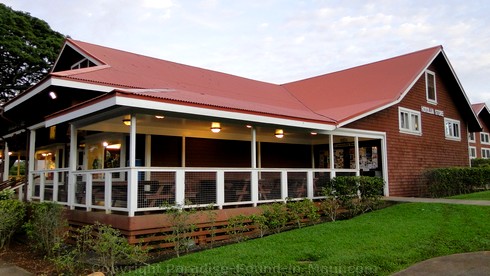 The Honolua Store is such a bargain that even the local workers eat here! Give your budget a break with an inexpensive Maui restaurant in the midst of pricey Kapalua Resort, Maui!
A Cheap Place to Eat in the Kapalua Resort?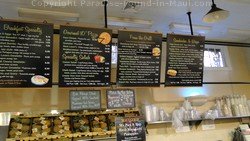 You betcha! If you're looking for a cheap Maui restaurant in Kapalua, I think you'll be glad you checked this place out! The meals here are a bargain for the area, and the picnic tables on the lanai are a perfect spot to enjoy your meal!
Actually, I suppose this place is more of a deli/cafeteria/grocery/souvenir shop than a Maui restaurant. But who cares!
Their deli has hot breakfasts for as little as $4.95 and omelettes with all the fixings for under $7.00.
We saw hot lunch specials for as little as $4.95, burgers and fries or island fruit for just under $8, plus sandwiches and wraps for equally reasonable prices!
---
Book Activities and Tours for Your Maui Vacation
LOW-PRICE Guarantee!
---
If you want a quick, easy meal that you can grab for a picnic, their grocery department sells fresh wraps, sandwiches, meal-sized salads, yogurt parfaits, fresh island fruit, snack food, wine and more! Plus, there is a lovely veranda with picnic tables that wraps around the building, making for a convenient spot to eat.
We enjoyed a quick picnic here after a big day of sightseeing in the Kapalua Resort. Our kids were delighted by the geckos scampering about on the lanai, and come to think of it, so was I!
Prices were current at the time of this writing, but could change without notice. Check out the latest menu for current pricing.
The Honolua Store:
More Than Just a Place to Eat!
They also sells a nice selection of island clothing, souvenirs, sunscreen and other handy supplies.
About the Honolua Store
It was built back in 1929. It was here that the local pineapple plantation workers would go to purchase household goods and supplies, catch up on the news, and check out notices on the bulletin board. This charming wood-framed building has had extensive renovations, but the exterior still looks much the same as it did back when it was first built.
Hours of Operation
They are open from 6 a.m. until 8 p.m. daily. When we were there, it appeared that the deli is only open for breakfast and lunch. However, worst case, if you get there and find the deli closed, there is a great selection of fresh ready-to-eat sandwiches, salads and wraps in their grocery department.
Directions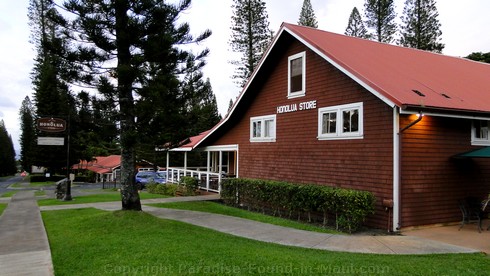 The Honolua Store is located at 502 Office Road in the Kapalua Resort, Maui. To get here from Lahaina or Kaanapali, just head north along the Honoapiilani Highway. You'll pass the turnoff for the Kapalua Airport, as well as the Napili area. Make a left turn at Office Road (there is a set of lights at this intersection.)
---
Nearby Maui Restaurants
---
Nearby Places to Stay
---
More articles of interest:

Kapalua Resort, Maui: Things to do, where to dine, accommodations and more...

---
Go to Homepage from Honolua Store
---
Did you find my site helpful?  Please spread the word and share it with others!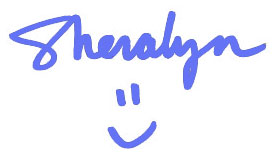 ---