The Hula Grill, Maui in
Whaler's Village
This page may contain compensated affiliate links. For more information, please read my disclaimer.
Restaurants in Maui on Beautiful Kaanapali Beach...
After a long day of sightseeing in the Kaanapali area, we ended up stopping in at the Hula Grill, Maui for dinner.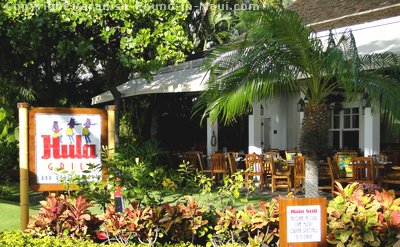 We've been to a lot of restaurants in Maui, and once again we were not disappointed - the food was fantastic, the service was full of the Aloha spirit, and the picturesque location fronting Kaanapali Beach in Whaler's Village can't be beat! They've got a traditional dining room, as well as "The Barefoot Bar" if you're looking for a more informal atmosphere.
Good Eats for Everyone at the Hula Grill, Maui
If you and your dining partner are trying to decide between restaurants in Maui and can't decide whether or not to go for casual food or something more sophisticated, the Hula Grill solves that problem nicely since they have it all!
I was in the mood for something extra special, so I ordered one of their nightly specials: a 7 oz filet mignon with a fabulous smoked mustard and sake cream sauce, smooth mashed potatoes with applewood smoked bacon and goat cheese, plus extra goat cheese on the side for my filet. The meal was divine!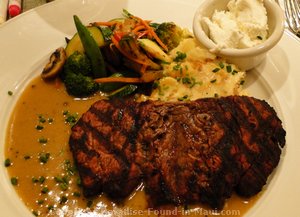 My husband, on the other hand, was in the mood for something more casual, so he ordered a yummy bacon cheeseburger off the Barefoot Bar menu.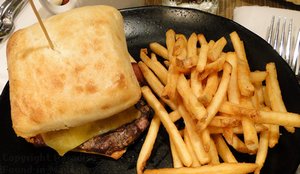 They have a really nice keiki (children's) menu that even offers grown-up options such as baby back ribs and filet mignon!

Since I can never resist a treat, we ended our evening here by sharing their yummy signature desert: a homemade ice cream sandwich made with macadamia nut brownies and dressed with whipped cream, chocolate ganache and raspberry sauce!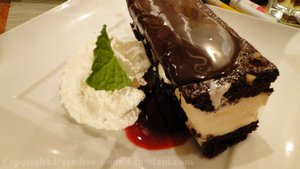 The menu covers a wide variety of food options from fresh Hawaiian fish to steak and chicken to sandwiches and salads and more. Honestly, there was so much on the menu that I want to try on future visits: the jalapeno corn bread with spicy honey butter, the crunchy beet with feta and Asian pear salad, the kalua pork potstickers, the kiawe wood-fired Big Island goat cheese pizza, the lemon ginger roasted chicken... mmmm... I can't wait!

Just How Much Will a Meal Here Set You Back?
It depends on your tastes. At the Barefoot Bar, food items range in price from about $7 for their Waipoli Farm Green Salad to almost $20 for a full entree of Grilled Fresh Island Fish. Sandwiches, appetizers, pizzas and other options fall somewhere in between.
In the main dining room, dinner entrees range in price from about $22 for their Molokai Sweet Potato Ravioli, to $36 for their Rosemary and Wood Roasted California Lamb. You can make a less expensive meal for yourself by combining a soup and salad or appetizer.
The pricing given is intended as an estimate only, and was based on early 2012 prices. As with all restaurants in Maui, pricing and menu items may change at any time.
So, Would I Eat Here Again?
Most definitely! As you can tell, we all enjoyed our meal here, and the service was friendly. The location can't be beat, especially if you're already in the Kaanapali area.
A Tip on Seating at the Hula Grill, Maui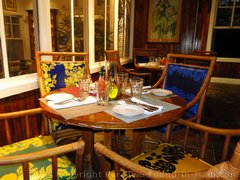 When we were there, we had the option of sitting at the Barefoot Bar, which gives you access to the less expensive, more casual Barefoot Bar menu. Or, you can sit in the main dining room where you'll have access to the more sophisticated dining room menu. Or, if you want access to both menus, there is a smaller seating area near the kitchen (where we sat, pictured above right). So, be sure you have an idea of what kind of food you want to eat before you take your seats.
Also, the Barefoot Bar does not accept reservations - it's first-come-first-served. For the dining room, reservations are available if you call ahead (808-667-6636.)
Directions to the Hula Grill, Maui
They're located at 2435 Kaanapali Parkway, Bldg. P, which is within the Whaler's Village Shopping Center, right along the beach.
If you're staying along Kaanapali Beach, then it's an easy walk down the paved beach walk.
If you're driving, just head down west Maui's Honoapiilani Highway to Kaanapali. You'll see the Kaanapali Parkway on the ocean side of the road. Turn onto the Kaanapali Parkway, and follow it until you see Whaler's Village and a large parkade. You can park at the parkade, then walk through Whaler's Village towards the ocean. You'll find the Hula Grill, Maui, on the right side among a cluster of restaurants fronting the beach.
---
More articles of interest:

Kaanapali, Maui: Things to Do, Where to Stay, Where to Eat and More...
---
Go to Homepage from Hula Grill Maui

---
Did you find my site helpful?  Please spread the word and share it with others!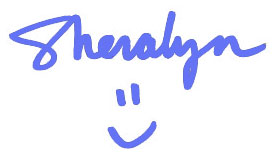 ---