The Old Lahaina Luau, Maui:
an Absolutely Enchanting Evening!
This page may contain compensated affiliate links. For more information, please read my disclaimer.
For Old Lahaina Luau in Maui, tickets, rates, and bookings, we recommend the "Barefoot Tours" site. (Link will open in new window.)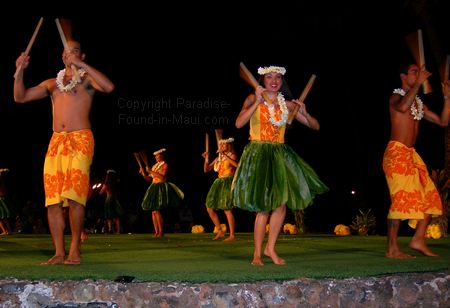 This was our favourite out of any Maui luau we've ever been to! This is the ONLY luau that we've ever wanted to return to and see AGAIN!
It's not that those other luaus were BAD, but the Old Lahaina Luau in Maui simply executed everything BETTER! The staff was fantastic. The food was plentiful. The grounds were absolutely beautiful. The entertainment was so good that you didn't even miss the fire dancers (this is one of the few luaus that don't have fire dancers)!

When we entered the Maui luau grounds, our host greeted us with a fresh flower lei and a mouthwatering tropical cocktail. We were even escorted to our front row seats!

How did we get our hands on FRONT ROW SEATS?
There are 2 reasons for this:
1) We booked our Old Lahaina Luau in Maui experience WELL in advance.
2) We elected to sit on the traditional mat seating at this Maui luau, all of which is located right in front of the semi-circular stage!
I highly recommend the mat seating, as it makes the luau feel that much more authentic. And, did I mention you get the BEST SEATS IN THE HOUSE?
A tip for my fellow women out there: I'd advise against wearing a skirt... shorts or pants will be much more practical for this type of Maui luau seating!
To be honest, I don't think you could get a BAD seat even if you tried! The grounds are large enough for all of the seating to be well spread out around the stage area, so even if you're not in the front row as we were, you'd still have a great view of all the action! Of course, if traditional mat seating isn't your thing, you can opt for the standard table and chair set-up.
Before the show started, we had some time to explore these beautiful Maui luau grounds.
As we wandered around, we found islanders demonstrating traditional arts and crafts. We also saw an islander tending to the Kalua Pig (the main course!) in the traditional Hawaiian underground oven. My mouth watered in anticipation of the Maui luau feast that was to come!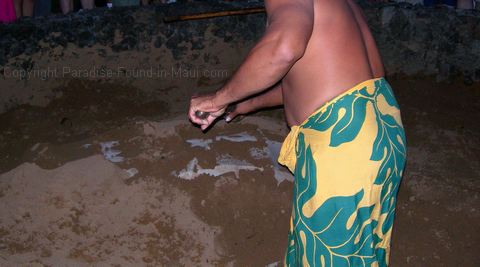 As we walked around the lush green lawn area, we saw thatched rooftops all around us, tiki torches along the walking paths, and palm trees swaying gently in the breeze. We felt like we'd been transported to another world, in another time....
At last, dinner was served! Buffet-style of course! As we worked our way through the buffet line, we were happy to see that the food was well labeled (so you knew what you were eating!). The food was both plentiful and delicious! I couldn't help but pile my plate high! I think that almost anyone would be able to find selections that they would like.
If you enjoy tropical cocktails, you'll be pleased to find out, as we were, that the Old Lahaina Luau in Maui offers an open bar, with a premium selection! AND, they are NOT stingy with the alcohol!
When our host found out that we were from Canada, he enthusiastically explained that every Canadian he had ever met "KNEW HOW TO DRINK!" When he brought me my next Mai Tai, I took a sip of my drink....
And nearly choked!
It was WAY too strong for me!! I tried to cover up my reaction, as I knew that by being so generous with the alcohol, our host was only trying to be nice and all... But eventually, I had to come clean and confess that I JUST COULDN'T DRINK IT! Luckily, our host was happy to fill my request for a replacement drink that had more mix and LESS alcohol! I was clearly NOT going to live up to our host's impression of Canadian drinkers, as I prefer my drinks on the weaker side.
Throughout dinner and dessert, we enjoyed animated conversation with our table-mates... and then, with our bellies full, and unable to eat another bite, we were more than ready to enjoy the show!
The Old Lahaina Luau in Maui tells its story through hula, chanting, singing and music! It takes you through the Polynesians arriving in Hawaii, the arrival of the missionaries, and continues up to modern times. There weren't any fire dancers at this show, but I can honestly say that the show is SO GOOD that we didn't miss them!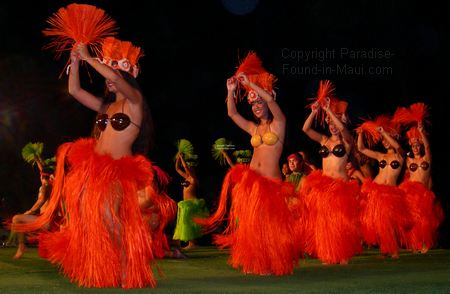 We loved the colourful costumes, and there's just something about that Maui luau music and dance that always left us feeling relaxed and mellow!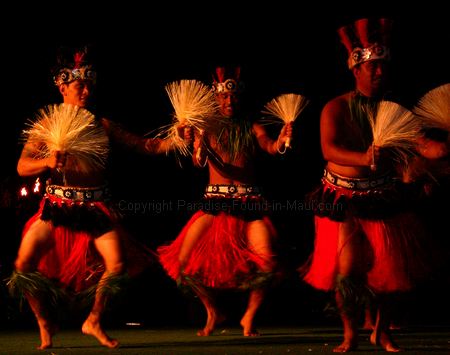 We thoroughly enjoyed our evening here at the Old Lahaina Luau, Maui, and were sorry when it came to an end. Out of all the luau's we've ever been to, the Old Lahaina Luau in Maui is truly our favourite!
Now that you've read about MY favourite luau, I'd love to hear about yours! Share your Maui luau story here!
Tickets, Rates, and Bookings
If you're interested in going to the Old Lahaina Luau in Maui, you can get more information on available tickets, prices, and bookings on the Barefoot Tours site. (Link will open in new window.)
There are several reasons why I feel comfortable recommending the Barefoot Tours site:
They're a reputable local Maui company who has been in business for over 30 years.
They have an excellent low price guarantee!
They offer a wide selection of activities and tour operators, so I feel confident that you will find what you're looking for!
If you'd like to see ticket information on the other luaus in Maui, when you get to the Barefoot Tours site, just go to the left side of the screen under "Maui," then choose "Luaus on Maui" from the drop-down menu for their complete listing of luaus, descriptions, and pricing.
Click here to find out more about why we like Barefoot Tours!
More articles of interest:
1) Browse through our Maui luau listings and find out which luau will be perfect for YOU!
2) See my handy quick-reference list of all the luaus in Maui including pricing comparisons, ratings and locations!
3) Our Top Things to Do On Maui for Relaxation
Go to Homepage
Did you find my site helpful?  Please spread the word and share it with others!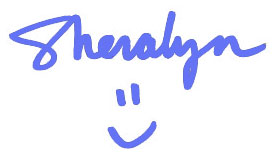 ---