Oneloa Beach in West Maui
Peaceful beauty, no crowds, a gem of a Kapalua Beach...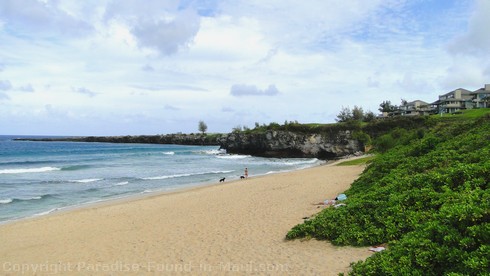 West Maui's Oneloa Beach (also known as Ironwood Beach) is a gorgeous Kapalua beach that's definitely worthy of a stop if you'd like to relax on a long, white stretch of sand that's remarkably uncrowded and peaceful compared to others in the area. There are no mega hotels around here - just some vacation-dwellings backing onto the beach along with lots of lush, green groundcover.
---
Looking for the other Oneloa Beach (a.k.a. South Maui's Big Beach)? Click here!
---
Mind you, maybe it's uncrowded because the section of beach that you first walk onto isn't the best for swimming or boogie boarding due to the rocky shelf beneath the waves. But no worries!
If you want to swim or try your luck at boogie boarding here, just stroll down to the left end of the beach for the best conditions and a (usually) sandy bottom! If the water there is calm, the swimming and snorkeling can be fun. If there are some nice waves, boogie boarding can be a blast too!
Beach Amenities
This is a simple beach, with not much in the way of amenities. There are showers, but no restrooms or other facilities. Bring along any snacks or beverages that you'll need.
If you like scenic walks, the Kapalua Coastal Trail runs past here and would be a nice addition to your day.
Parking is free, and due to the lack of crowds, you probably won't have any trouble claiming a parking space even though it's a smallish lot (only 20 or so parking spots.)



Oneloa Beach Cautions
There are signs posted at the entrance to this Kapalua beach warning of the potential for high surf, strong currents and slippery rocks. Since there are no lifeguards here, you'll have to use your best judgment as to whether or not the water is safe. If in doubt, err on the side of caution!
Directions to Oneloa Beach
Drive along the Honoapiilani Highway towards Kapalua. Make a left turn onto Office Road - follow it all the way to the end. Once you hit the end of the road, hang a left onto Lower Honoapiilani Road.
You'll come to an intersection where you'll see Ridge Road on your left, and Ironwood Lane on your right. Make a right turn into Ironwood Lane, where you'll see a parking lot, and the blue beach access sign that marks the picturesque paved walkway to the beach.
Everything you need to know about the other Oneloa Beach (a.k.a. South Maui's Big Beach)...
More articles of interest:
1) More for your Maui Beach vacation: best beaches for family fun, the unusual, best swimming beaches, and more...
2) Kapalua, Maui: Things to do, more beaches, places to see, where to eat and sleep!