Maui's "Secret Cove"
An extraordinarily beautiful spot that you simply must see!
Secret Cove is a really beautiful, hidden little pocket of sand that's actually not so secret anymore. However, if you get there bright and early in the morning, before anyone else has had a chance to leave fresh footprints in the sand, it will FEEL secret... if only for a little while!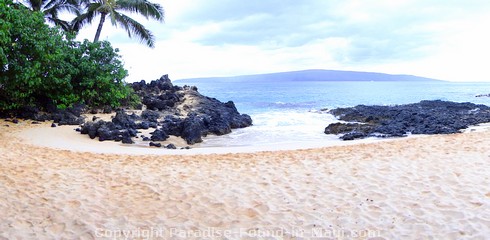 This intimate spot is popular for Maui beach weddings... hidden behind a rock wall, with a generous helping of lava rock sprinkled along the shoreline, palm trees swaying in the breeze - you couldn't ask for a better spot to get married - you're hidden from those passing by, and will have the most beautiful photos to show for it.
Not getting married? Neither were we when we came here... but it was still a sublime spot to check out and take photos.
Beach Activities
Sit down and dig your toes into the sand.
Listen to the surf.
Gaze at the distant island of Kahoolawe.
Feel the trade winds caress your face.
Breath.
Relax.
And by all means have yourself a Maui beach wedding if that's what you came for!
I know... that might not be what you expected me to say. But honestly, the scenery is what you come to this beach for. The lava rocks that make the shoreline so drop-dead gorgeous also make swimming and wading in the surf not the best. Snorkeling? I suppose if it's really calm, you could give it a try (we didn't) - I think you're better off snorkeling elsewhere though.
So just relax on the sand. Enjoy. You're in Maui! :)
Amenities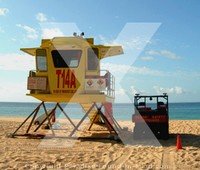 Big Beach
There are no amenities here, which is probably a good thing.
Picnic tables, a lifeguard tower and port-a-potties would kinda sorta ruin the charm of this place!
Restrooms are a short drive north at Big Beach.
Directions to Secret Cove
This place is really easy to get here. From Wailea, head south on Wailea Alanui Drive. Follow it as it changes names to Makena Alanui Drive, and then Makena Road. A short distance past the turn-offs for Big Beach, you'll see a pretty stone wall with a door-way sized opening and a blue beach access sign on the south end.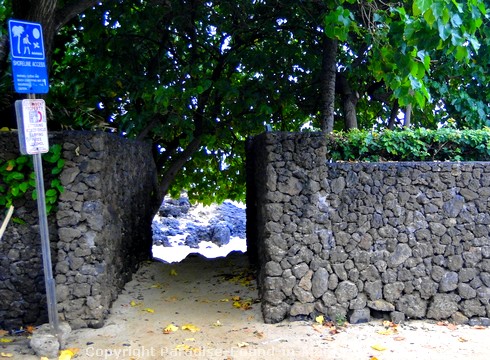 This is the entrance to Secret Cove. There is parallel parking available on the street. Please be sure not to block anyone's driveway!
---
Nearby Attractions
---
Go to Homepage from Secret Cove
Did you find my site helpful?  Please spread the word and share it with others!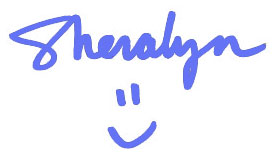 ---