The Lahaina Parrots
by Maggie
(Fargo, North Dakota, USA)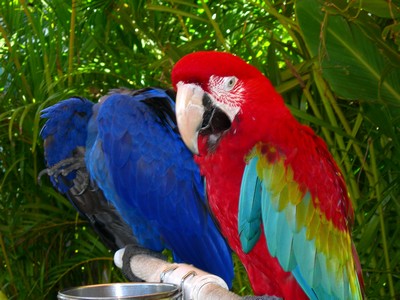 Lahaina Parrots
On our last Maui vacation a few years ago, we saw these gorgeous parrots on a street corner in Lahaina!

If you're a bird lover, you'll love the fact that you can get your pictures taken with these magnificent birds!

We got a kick out of seeing them here, as it was an unexpected sight. If anyone reading this happens to be heading to Maui with their children, I'd recommend keeping an eye out for these birds in Lahaina... your kids will adore them!

I wish I could remember exactly where in Lahaina we saw them... but they shouldn't be too hard to find since they were on one of the major touristy streets!

Hi Maggie,

Thanks so much for sharing your parrot picture! Love it!

Sheralyn
:)

2012 update from Sheralyn:

In case there are others who are wondering exactly where to see these parrots, here is a map for you! (Thanks to one of our readers, see their comment below, who reminded us of where to find them in front of the Pioneer Inn!)



And, in case you love checking out new Maui pictures as much as I do, here is another photo of the Lahaina parrots that I dug up:




You can see a full version of this cool white bird, plus some other feathered friends we've seen in Maui, here: Birds Everywhere!


Another Parrot in Lahaina: Meet Baby!
On our last trip, we came across an Amazon Green Parrot named "Baby" when we were browsing in the "Sargent's Fine Art" Gallery. This cool gallery is located at the corner of Front Street and Lahainaluna Road, right across the street from
Cheeseburger in Paradise.
(A fun place to stop for a burger by the way!)
If you run into her, be sure to keep your fingers to yourself since signs warn that she's a biter!