Haleakala Highway Summit
Drive Guide

This page may contain compensated affiliate links. For more information, please read my disclaimer.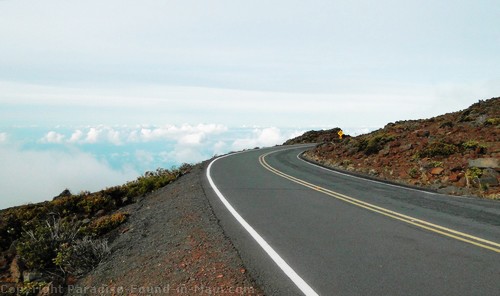 Want to drive the Haleakala Highway to the volcano summit?  Here is everything you need to know.
In a hurry? Use the Quick Links below to skip ahead to what interests you most.
Or, read everything so you don't miss a thing!

Drive to the Summit Quick Links

---
How Long Does it Take to Drive to the Haleakala Summit?

| Starting Point | Drive Time (One-Way) |
| --- | --- |
| Kahului | 1.5 - 2 hours |
| Kihei | 1.75 - 2.25 hours |
| Kaanapali and Lahaina | 2.25 - 2.75 hours |
| Kapalua | 2.5 - 3 hours |
| Maalaea | 1.75 - 2.25 hours |
| Wailea | 2 - 2.5 hours |
---
Summit Quick Driving Directions
1) Head towards Kahului, and get yourself onto the Hana Highway (route 36), driving towards Hana.

2) Make a right turn onto the Haleakala Highway (route 37) - it's a huge intersection with a set of lights, so you can't miss it.  Now follow it for almost 8 miles.

3) At the intersection with Haleakala Road, the Haleakala Highway veers left - make a left turn here to follow it.  There is a set of lights at this intersection, and a letter "K" on the lawn across from you on the left.  Now drive for another 6 miles.


4) Make a left turn onto Crater Road (route 378) when you see the large brown park sign. 

Follow this for about 11 miles until you reach the volcano summit.

Costs

On Crater Road, at approximately 7000 feet elevation, you'll see the park entrance booth.  You'll be required to show your park entrance pass, or purchase one for $10 (gives you access to Haleakala National Park for 3 days.)


Starting Out on the Hana Highway


Intersection with Haleakala Road


Turn Left Here onto Crater Road


Park Entrance Booth

And of course, there's also the cost of your rental car. Book it well in advance since there's a limited number of vehicles available for rent on the island and they've been known to sell out in the past. Check prices and availability on this site, and this one.
---
Haleakala Highway Map: Route to the Summit

View
Haleakala Highway - How to Get to the Summit
in a larger map
---
6 Things to Watch Out For (and What to do About Them)
1) Poor Visibility Due to Fog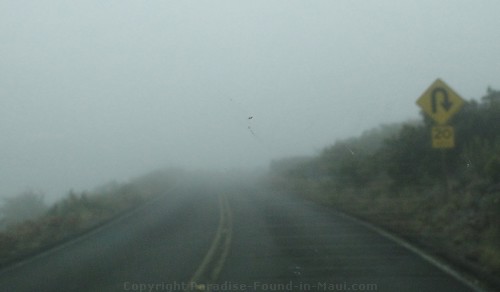 If it gets foggy, there are 2 things you can do that will help you a ton.  First, turn your vehicle's headlights on so oncoming traffic and cyclists can see you better.  Second, don't be afraid to drive slower if it's unsafe to drive the speed limit.  

Fog Avoidance Tip: Avoid the worst of it by aiming to reach the summit earlier in the day.  Cloud cover and accompanying fog tend to increase as the day goes on, so the earlier you go, the less fog you are likely to run into.
2) Cows and Hawaiian Nene (geese) on the Road
This is something to watch out for, but it can also be one of the highlights of your drive.  The Hawaiian Nene is an endangered species, so seeing one of these elusive creatures is a special treat!

Avoid a collision - drive slowly enough that you'll have enough time to brake if you find the road blocked by a stray cow or goose.  And if you do find yourself blocked, you might as well enjoy the moment and take a few pictures, right? 

---
3) Novice Cyclists on Downhill Bike Tours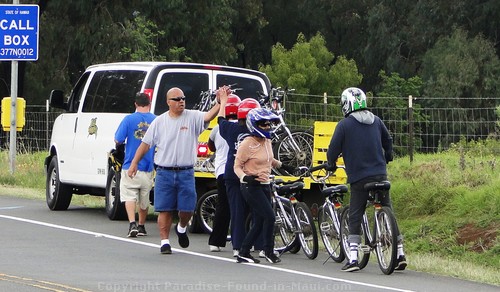 These guys usually won't cause you any issues, but, since they have been known to lose control of their bikes once in a while, careening down the road, and sometimes even OFF road, it doesn't hurt to take a couple of easy precautions.
Don't drive too fast in case you need to brake in a hurry, and turn on your headlights so they can see you coming. 
 If you're a competent cyclist and biking down Haleakala appeals to you, be sure to check out available tours here (low-price guarantee).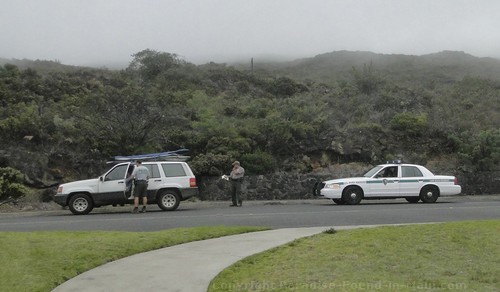 4) Police Ticketing Speeders
We saw lots of police officers out on the road, and there was no shortage of speeders to keep them busy writing tickets.  The main ticketing hot spot seemed to be the stretch of Haleakala Highway between the Hana Highway and Makawao.  However, we also saw someone getting pulled over by the park rangers across from the visitor center.  Keep a close watch on your speed, and you'll be just fine!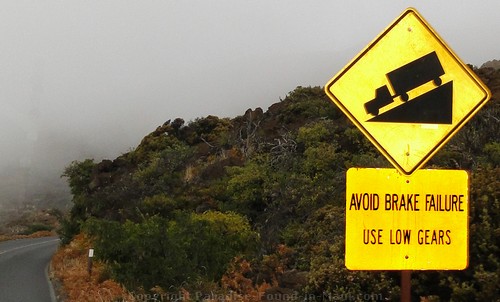 5) Steep Inclines on the Way Down

There have been rare reports of brake failures on the steep descent from the summit. 
So, give your breaks a brake and use low gear on the way down!

6) Altitude Sickness

Altitude sickness is not likely to affect you on a casual drive to the summit and back.  However, if you're planning on spending a longer time up there, (ex. going on a hike in the crater?) you might run into this issue.

Symptoms to watch out for:  dizziness, nausea, and headache.  If you notice any of these, it may be due to the altitude.  If so, the way to fix it is to head for a lower altitude, and drink some water.  If symptoms don't resolve, then get checked out by a doctor.

---
Is it Dangerous to Drive the Haleakala Highway?

Many people ask this question, and in case you're one of them, I'd like to reassure you.  Driving at the lower elevations is no more dangerous than any other major highway, with very good visibility and wide open spaces all around.
The higher elevations sometimes pose some challenges (see above), but if you're careful, you'll stay safe!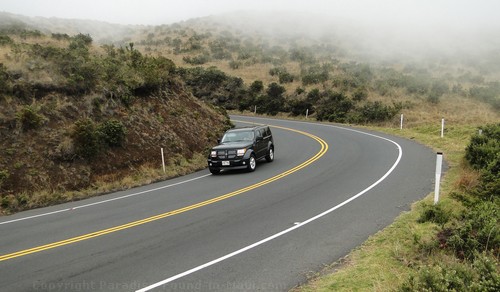 Crater Road

The only other thing that you might run into is ice on the roads IF you head to the summit during freezing temperatures.  If this happens, just drive very slowly and take your time.  Luckily, if you head up there during daylight hours, this is unlikely to affect you.
---
Weather and What to Wear at the Haleakala Summit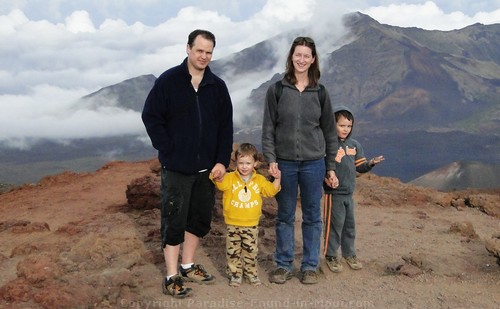 Layers are great - you can peel off the jackets and sweatshirts if you get too warm!

You should bring along warm clothes for the summit, since temperatures will be quite a bit cooler up there compared to sea level.  Daily highs can vary anywhere from 50 - 65F (10 - 18C.)  One rule of thumb is to assume it will be about 32F (13C) cooler at the summit compared to down at sea level - but keep in mind that wind and damp weather up there tend to accentuate the cold. 

What should you wear?  I usually start off my day in shorts and a t-shirt.  At the visitor's center, I'll duck into the restroom to change into jeans, plus put on a fleece jacket for the rest of the journey.

If you go to the summit for the sunrise, then dress even warmer since temperatures can dip below freezing at that time of day.

---
Haleakala Highway: Fun Facts
It's a 37 mile drive from sea level to the 10023 foot summit.  It's the world's highest elevation gain in the shortest distance.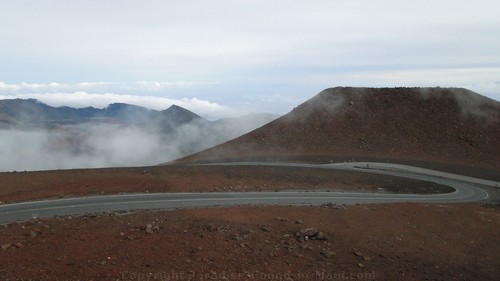 On the drive to the summit, you'll pass through just as many ecosystems as you would if you drove from Mexico to Canada.

---
Book Your Haleakala Bike Tours
LOW-PRICE Guarantee
---
More Things to Do in Maui
---
---
---
Did you find my site helpful?  Please spread the word and share it with others!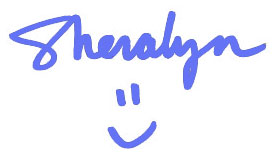 ---