A Road to Hana Tour:
Should You Do It?
Our day with Valley Isle Excursions, what to expect, pros and cons...
This page may contain compensated affiliate links. For more information, please read my disclaimer.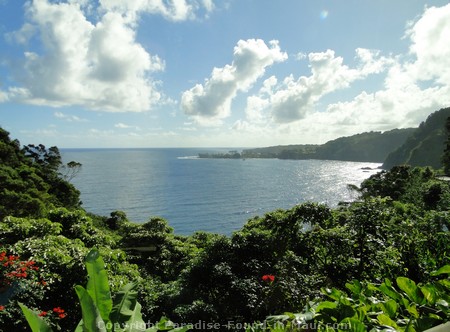 Are you trying to decide between a guided road to Hana tour or the 'ol drive-yourself version?
I've done it both ways, so let me help you decide! You can check out how OUR day went when we finally let a tour company, Valley Isle Excursions, take care of our trip.
I'll give you the lowdown on our day with them, let you know all the pros and cons, plus you'll see loads of pictures so you'll know exactly what to expect and whether or not this is the way YOU want to do the Hana Highway.
The Lowdown

Now we've driven ourselves to Hana more than once and enjoyed ourselves a ton -  BUT, I have to tell you that it was an absolute pleasure to finally not have to do any planning whatsoever - Valley Isle Excursions fed us, arranged everything, and kept us entertained the entire day.  Here is a taste of what we got to see on our tour...

First stop, breakfast! Our friendly driver, Joe, drove us to the Dunes at Maui Lani Golf Course, where we enjoyed a quick continental breakfast in their spacious clubhouse.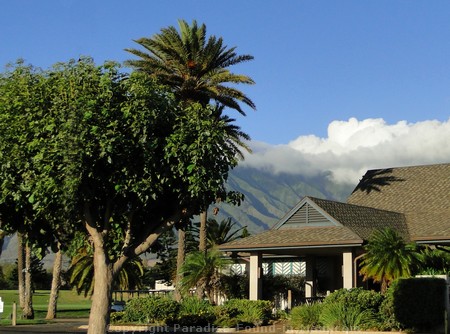 It was a simple meal of muffins, croissants and fresh island fruit.  And of course, there was coffee, tea and juice to wash it all down.  In other words, just right to start off the day - a speedy meal so we could get to the sightseeing that much sooner.
(Before you leave, be sure to take a walk out to the back lanai, where you'll enjoy views of the course backed by the West Maui Mountains.)
With breakfast behind us, we were all set to get going and sight-see.  Here are some of the highlights...
First up, a very cool stand of rainbow eucalyptus trees.  Even cooler was getting to stop further on at mile marker 7 and walk right up to a giant one that was along the roadside.  Check this out:
And don't forget to say hi to the wild chickens while you're there... these ones came waltzing out of the jungle along the road...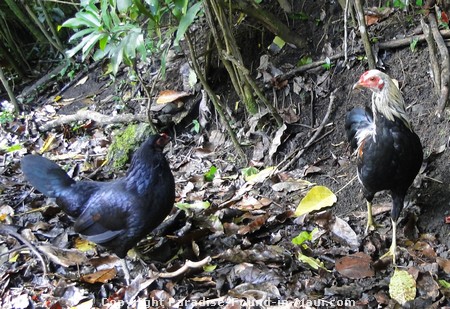 Kaumahina State Wayside Park was another nice stop - there is a lookout here with a beautiful coastal view.
Keanae Peninsula was rugged and wild as always.
In addition to the beautiful Keanae coast, you'll also see the 150-year-old Keanae Congressional Church. 
Tip: On the way to or from Keanae, if your driver asks if you want to stop for banana bread, SAY "YES!"  Aunty Sandy's is where we stopped, and they are the only banana bread stand on the way to Hana that I've ever found with banana bread that's still warm from the oven - it's delicious! 
The road to Hana tour continues at Wailua Valley.  We got out and stretched our legs here, took in the views, breathed in the fresh, clean air.
We cruised past Waikani Falls, one of many that we passed along the way.
And next up was the beautiful Waiulu Valley, which means "gentle waters."  Take a peek at this waterfall that was under one of the many one-lane bridges you'll pass by...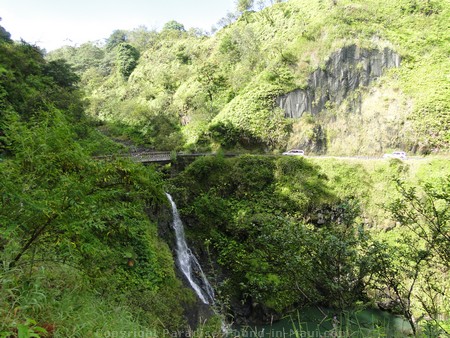 We were getting close to Pua'a Ka'a now... an area where the road gets really bendy and a tad bit stressful to drive...check out the blind turn coming up...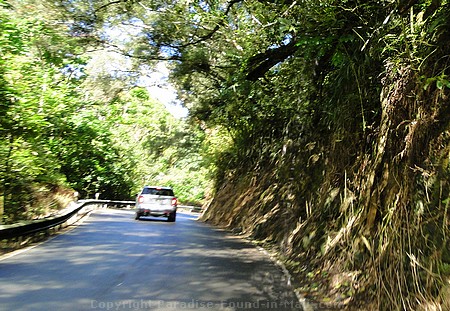 And now for a perfect example of how the luscious views, the comfy seats, and the delicious home-style food (you'll see what I mean in a minute), was all made even better by our driver, Joe, who was born and raised in Hawaii.  He was one of my favourite parts of this road to Hana tour - he shared all kinds of interesting factoids about the areas we were passing through, plus story after story - the kind of stuff that no guidebook will ever tell you.

So back to Pua'a Ka'a, and how it ties in with Joe's stories...  As we passed through this area, and the road started to get not only narrow but full of all that twisty-turniness that this highway is famous for, you know, the kind of road that would stress out most drivers, Joe explained that Pua'a Ka'a means "pig in a car."  Apparently there are locals who, when planning to drive through this area, will bring some kalua pig in the car and toss it out the window to share with the spirits in exchange for safe passage.  Now I understand why my Hawaiian dictionary says Pua'a means pig and ka'a means wheeled vehicle.  Cool huh? 

Fortunately, we didn't feel the need for any kalua pig since Joe's experienced hands were at the wheel!
In the Nahiku area, we passed by some large stands of Malaysian bamboo...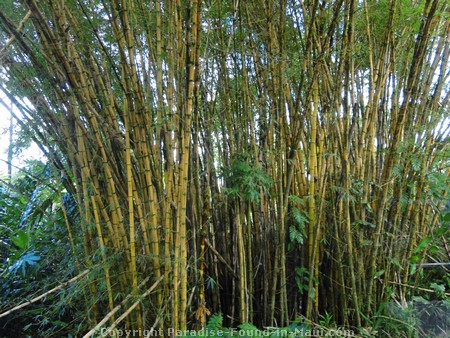 And next up, Joe pointed out the macadamia nut farm that stretches over 150 acres from road to sea...
Wouldn't have known what a breadfruit tree was without Joe, and now I do... we saw that too...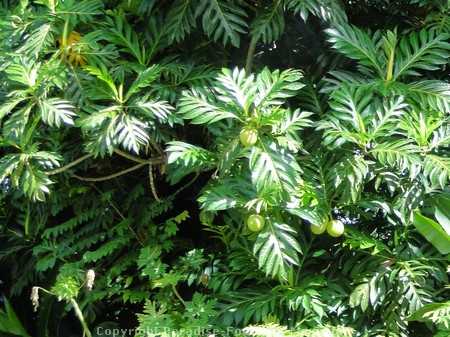 And then there was Waianapanapa State Park, a super popular stop on any road to Hana tour.  To get here, we were driven under a canopy of  "fake almond trees" - the name is appropriate since they appear to have almonds hanging from their branches, but they're fakes - no almonds in those shells. 
We had some time to walk around and explore here. The black sand beach here is seriously stunning...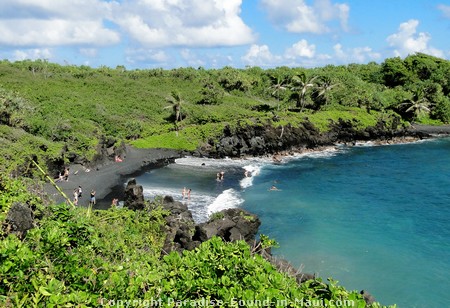 And if you're lucky, you might get to see the blowhole spouting off!
While you're here, be sure to take a peak at the hidden pool in Waianapanapa Caves where Princess Popoalaea was slain as she tried to hide from her husband, Chief Kakae - it is said that at certain times of the year, the waters here turn red to remind us of the murdered princess (In fact, the red colour is actually due to hoards of tiny red shrimp.)
We were starting to get hungry, and just in time, we pulled into a local flower farm for lunch.  Things got off to a lovely start as all the ladies were presented with a beautiful tropical flower, which, when squeezed, emitted an intoxicating sweet scent.  (One of the red ones in the photo below...)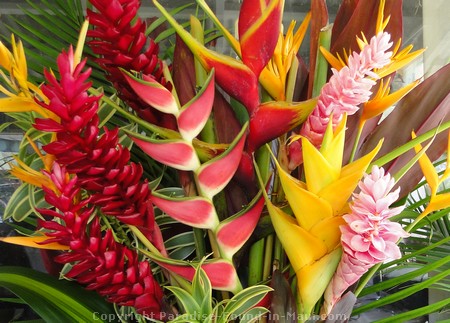 And I know... you'll hear all kinds of flowers described as "intoxicating" and "sweet-smelling", then you smell them and think it's really not that great... but I swear, this one really and truly did deserve that description!
I couldn't get enough of it... squeeze, inhale... squeeze, inhale... (You seriously must try it...)
But then Joe set out our BBQ chicken lunch and the flower was momentarily forgotten in our haste to chow down on the home-style picnic lunch.  There was BBQ chicken, garden salad, macaroni salad, rolls and dessert!  Plus, lots of beverages to choose from including pop, bottled water and juice.   And no cheap paper plates to contend with as we were given REAL plates and cutlery, just like at home - a rather nice touch, I thought!
If you eat quick, you'll have some time to explore the grounds of the flower farm for a bit.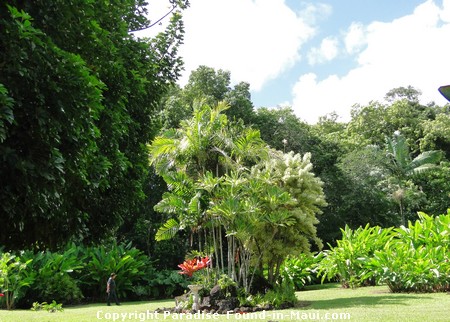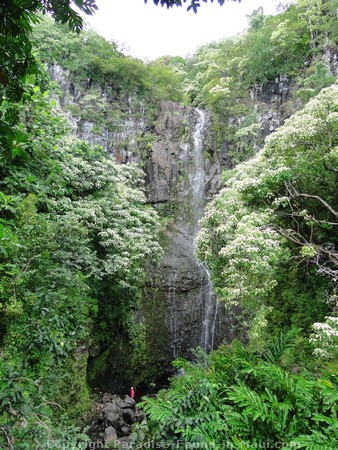 Our road to Hana tour then took us further on past Hana, where we got to stop at Wailua Falls (pictured to the right). 
The highway here is rather narrow, so you have to be careful as you pick your way over to the bridge where you'll see a gorgeous waterfall.
We also saw lots of locals selling their wares here - an unexpected spot for souvenir shopping!
After that, more gorgeous scenery, and before we knew it, our road to Hana tour was put on temporary hold when we arrived Oheo Gulch (aka the Seven Sacred Pools). 
If you didn't have little ones with you like we did, you'd have had time for a quick swim in the pools which makes for a great way to cool off in the Maui heat!  Check this out: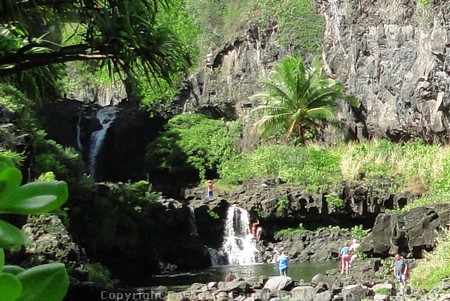 And if you can't, or don't want to swim, this is still a fantastic stop - the scenery is gorgeous, you can do a little hike on the 0.5 mile loop to the pools, and the coastline, plus there is a visitor center if you're interested in learning more about the area.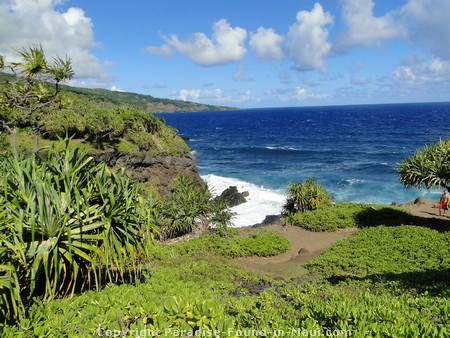 Next on the list was a trip to the grave of aviation legend, Charles Lindbergh.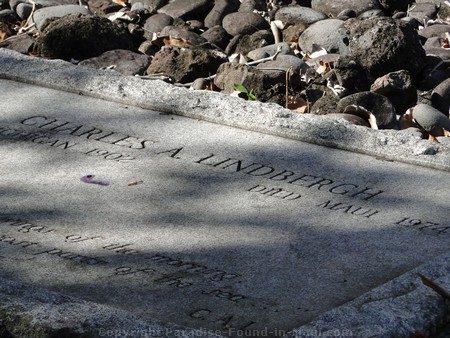 Located at Palapala Hoomau Congressional Church, the surroundings are tranquil and peaceful.  Even if you're not an aviation enthusiast, I'm sure you'll enjoy the beauty of this stop - I know we did.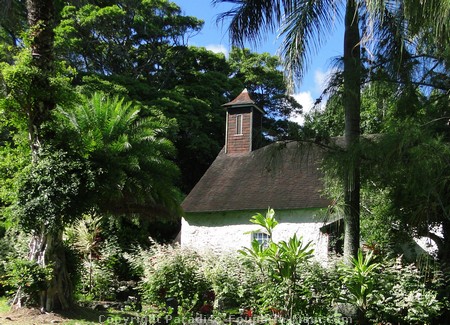 After this, the road starts to get rougher and quite narrow as Joe takes our Road to Hana tour group around the backside of the island.   Would you believe this road is meant to accommodate 2-way traffic?!!  Amazing, isn't it!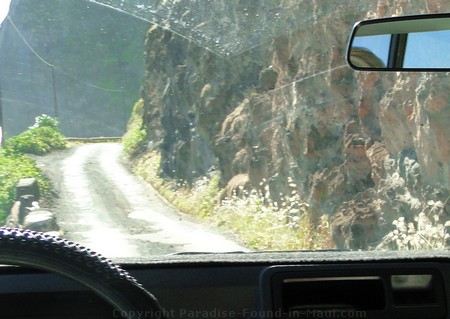 I'm always excited to have a chance to see this part of the island - most of the major rental car companies won't permit you to take their cars on this road, much of it is unpaved - but the scenery is gorgeous and so different from the rest of the island, that it's a must-see in my book!
I would have gotten more pictures of this part to show you, but I had a 5-year-old sleeping on my lap for this leg of the journey, and I didn't dare get up and disturb him!  But here's one snapshot I was able to get for you...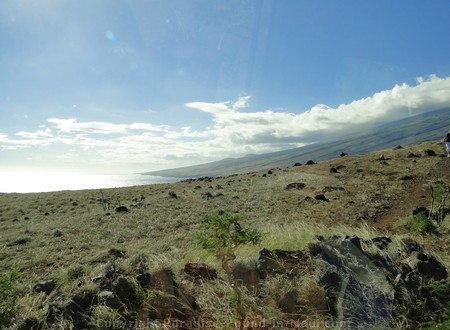 Pros and Cons of Going on a
Guided Road to Hana Tour: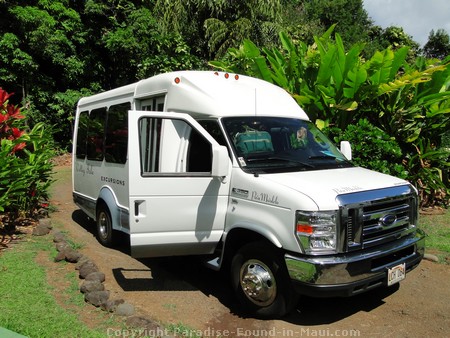 Pro: As a passenger on a guided road to Hana tour, everyone can gawk at the scenery as much as they want, without having to worry about crashing the rental car.  If you've ever done any driving on the Hana Highway, I bet you didn't get to gape at the scenery nearly as much as you would have liked since you were too busy concentrating on the road with it's narrow twists and turns.  

Pro: A guide like Joe will tell you loads of funny, colourful, and fascinating stories that you won't find in any guidebook.
Pro: A guide takes all the worry out of the trip.  You don't have to do any planning, and you don't have to worry about being too late leaving Hana and having to drive home in the dark.  Nice!

Pro: This is a great way to see everything past Hana, on the backside of the island, without breaking the rules in your car rental contract (most of which prohibit you from driving on the unpaved roads here.)

Con: Since you're not the only one on the tour, you don't get to pick and choose where you stop as there will be a pre-arranged itinerary.  That being said, Valley Isle Excursions is open to special requests if there is something you're just dying to see along the way. (Assuming it's within reason, of course... I wouldn't ask them to make time for an hour-long hike or anything like that - those things are best done on the do-it-yourself drive)
Con: Ok, you know this already, but I'll make it official. Compared to driving yourself, a road to Hana tour will cost more money.
The bottom line: If you ask me, there are way more pros than cons.  If a road to Hana tour with a great company like Valley Isle Excursions will fit into your budget, then go for it!  I think you'll be very glad you did.
Want to Reserve Your Tickets?

If you want to reserve your tickets, I highly recommend the Barefoot Tours site... they have a low-price guarantee, and have been in business practically forever.  I use them to book my own tours when I'm on Maui since I love having all of my stuff booked at one place - it makes it easier if I lose a ticket, or forget what I'm booked for next since all I have to do is give them a call and everything is fixed.
Booking Tip: Be sure to ask Barefoot Tours to match the price that you get if you book directly through the Valley Isle Excursions site... at the time of this writing, that will save you about $4 per adult and senior ticket, and $10 per child ticket.
Once you get to their site, click on "Maui," then "Land Tours on Maui," then "Valley Isle Excursions."
Book a tour for Valley Isle Excursions...
Home > Things to Do on Maui to Relax > Hana Tour

Did you find my site helpful?  Please spread the word and share it with others!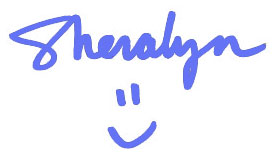 ---