Little Beach - Maui's Most
Famous Nude Beach

This page may contain compensated affiliate links. For more information, please read my disclaimer.
Little Beach, Maui is yet another beach with many names. Whether you want to call it Little Beach, Little Makena Beach or Onouli Beach is completely up to you!
It's a great place to hang out in the warm Maui sun, but only if you're free spirited enough to accept the fact that it's widely considered to be a clothing optional beach.
This beach got its name because it's, well, little.... especially when compared to its neighbour, Big Beach. But its size does NOT mean you should write it off. After all, it's said that good things come in small packages, and that's definitely true of this place!
It backs onto one of the largest cinder cones on Maui: Pu'u Ola'i. To get here, you must head to the north end of Big Beach, and climb along the footpath over the rocky remains of a lava flow from Pu'u Ola'i.
---
Book Your Maui Tours and Activities Today
LOW-PRICE Guarantee
---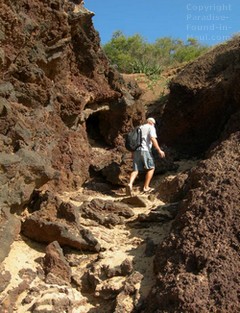 Don't forget to savour the magnificent ocean view when you reach the top of the rock wall!
If you're willing to make the trip, you'll be rewarded with an ocean that is generally much more suitable for swimming and boogie boarding compared to Big Beach. This is mostly due to the gentler shorebreak here.
Swimming and boogie boarding aren't the ONLY activities that you can take part in here!
It's said that when the ocean is calm, you can snorkel around the rocky tip of Pu'u Ola'i at the south end of the beach.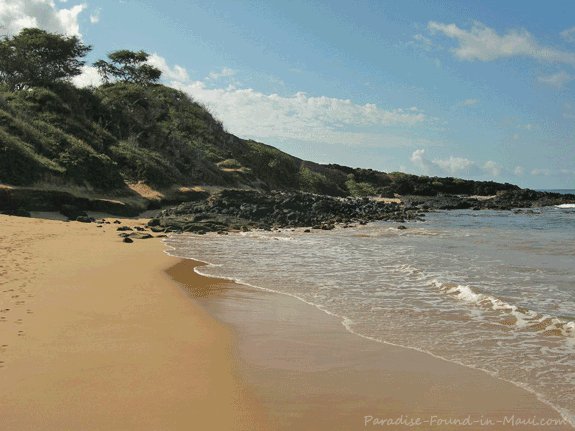 Also, if you're able to get to Little Makena Beach on a Sunday evening, you will enjoy the assemblage of fire dancers, and other performers that gather here to entertain and hone their skills!
Practical Tips for a Fun Day at Little Beach, Maui

There are no toilets at this beach; however, the portable toilets at Big Beach can be used. Speaking of Big Beach, you can park your car in the parking lot there - you'll find lots of space and it's all free! (Note: There are 2 parking lots for Big Beach, one at the south and one at the north end. Park in the north lot to be closer to Little Beach.)
Especially if you plan on spending the day here, bring your own supply of fresh drinking water, as you won't find any here!
The beach is only open during the day... the park gates are locked in the evening.
Easy Directions To Little Beach, Maui

Little Beach, Maui is located in Makena State Park, south of Kihei and Wailea. From Kihei, follow the Piilani Highway until it turns to the west and becomes Wailea Ike Drive. Across from the Shops at Wailea, it forms a dead-end, and you must turn left (south) onto Wailea Alanui Drive. This road eventually changes its name to Makena Alanui Road. Shortly before Makena State Park, this road changes names yet again, and becomes South Makena Road. Follow this road until the turn-off to Makena State Park. You should park at "Entry 1" for Makena.
Do you see that long stretch of sand on the Google map below? That's Big Beach, Maui... at the north end of Big Beach is a rocky point... just past that you can see a much smaller beach, which is Little Beach, Maui!
You'll need a rental car, so if you haven't booked yours yet, get to it! There's a limited number of vehicles available on the island and if you leave this until the last minute, you may end up with nothing. It's not an urban legend, it actually happens. :)
I often look at Expedia for deals on car rentals - I like that I can see vehicles from all sorts of car rental companies in one place. Another site worth checking out is Priceline.

Places to Stay Near Little Beach
If you want to stay close to this gem of a beach - and it's big brother, Big Beach - your best bet is to choose a resort or condo rental in Wailea or Kihei.

If you're driving (and you should, because it's too far to walk), Kihei is about 20 minutes away and Wailea is a little over 10 minutes away.
You can look for available options here:
---
More articles of interest: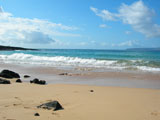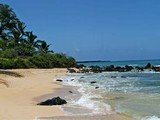 ---
---
Did you find my site helpful?  Please spread the word and share it with others!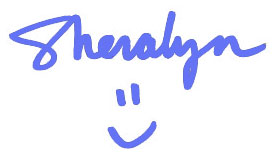 ---