Doing the Pipiwai Trail on Maui Without a Guide?
Your Questions Answered Here!
Although we enjoyed our guided trek along the Pipiwai Trail on Maui, that doesn't mean you can't save a few bucks and try it on your own. If you're thinking of going it alone, here are a few tips and answers to frequently asked questions. (Plus, lots of pics of the cool stuff you can see along the trail!)
How long does it take to hike the Pipiwai Trail on Maui?
The trail should take anywhere from 2-3 hours, depending on how often you stop along the way, and how quick you're able to move along.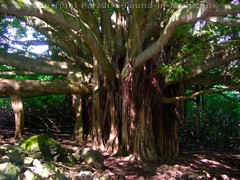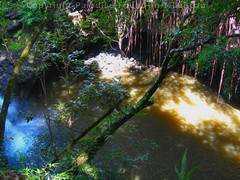 Do you recommend hiking this trail with children?
I would definitely give it a try if you think they will enjoy a hike of that length. We plan on bringing our kids there once we're confident they won't complain about the length of the hike (they're only 3 and 5 right now as I write this... hopefully in a couple years the youngest can handle it!) When we went, we saw several families with younger kids, and they seemed to be having a good time. Of course, every child is different, so use your own best judgement. Worst case, if your child isn't into the hike, you can always turn back and try again in a few years.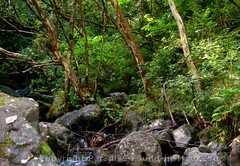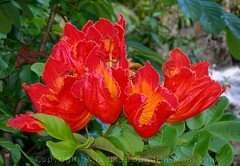 I'd be sure to keep my kids very close to me, not allowing them to run ahead or lag behind. If I were bringing very young children, I'd be holding their little hand the entire way! This is just for my own peace of mind to know they couldn't wander off trail and get into trouble with a waterfall or stream (especially in case of a flash flood).
Are there any special supplies I should bring along?
Bring lots of water, snacks, and some water shoes for the stream crossing that comes up near the end of the trail. When we were here, the stream was very shallow and we were able to keep our hiking shoes on as we picked our way over the rocks - but since you never know what you'll find when you get here, having water shoes in your backpack can't hurt. If the stream is too deep or flowing too fast, then don't enter the water. Also, be on watch for flash floods.
Also, I recommend that you wear closed toed shoes for this hike. There are centipedes on Maui that have a nasty bite - I've only ever seen one once, and that was when our guide was purposely looking for one under fallen leaves on a trail - in sandals you'd have to worry about kicking one under some leaves and getting bitten. Closed-toe shoes should protect you from that.
I hear the Waimoku Falls at the end of the trail is gorgeous! Can we swim there?
When you get to the end of the trail and Waimoku Falls, be sure to obey the signs warning people to stay back due to the risk of falling rocks. People have died here from unexpected rocks falling on them. It's deceiving when you get there - you see this gorgeous waterfall, all is peaceful, a large open area that looks soooo inviting out front, and then these signs saying not to go there... it's so tempting to disregard them. But if you have bad luck and a rock falls on your head, well, totally not worth the risk. There are safer waterfalls to swim at elsewhere on the island.
Anything else I need to know?
Since the Pipiwai Trail on Maui is located within Haleakala National Park, you'll have to pay the $10 per car entrance fee (current at the time of this writing). When you pay your fee, it's a good opportunity to check with the park rangers if there are any special warnings or cautions for the trail that day.
Parking is free, and there's lots of it. Restrooms are located adjacent to the parking area. Bring along all the food and water you'll need since the nearest guaranteed source of food is the town of Hana.
How do I get to the Pipiwai Trail on Maui?
From central Maui, follow the Hana Highway all the way to Hana town, then keep going! A little ways past mile marker 42, you'll see the ranger station where you will pay the entrance fee. The parking lot for the trail will be on your left.
Looking for more awesome hikes in Maui that you can do yourself and save the money you would have spent on a guide?
If so, I highly recommend you check out the book "Top Trails: Maui." I have it, and love it - it's a relatively inexpensive book and it covers a lot for the money.
If you'd like to find out more about it, I recommend you check it out Amazon.com: Top Trails: Maui: Must-Do Hikes for Everyone.
---
More articles of interest:
1) Our guided hike along the Pipiwai Trail with Hike Maui.
2) The Bamboo Forest along the Pipiwai Trail on Maui.
3) Oheo Gulch (Seven Sacred Pools): Be sure to check this one out - it's off the same parking lot where you'll be parking your car for the Pipiwai Trail on Maui.
4) Hana, Maui: Find out about things to do and see, where to stay, the road to Hana and more...
Did you find my site helpful?  Please spread the word and share it with others!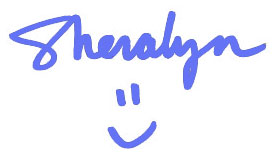 ---