Pipiwai Trail: Pictures from Our Day with Hike Maui!
Our trek on the Pipiwai Trail with Hike Maui was one of the most memorable hikes I've ever been on, and yielded some GREAT Maui pictures! Everywhere we looked, there was nothing but beauty.
Click here for more information on Hike Maui's Full Day Hana Waterfall Pipiwai Trail hike at Barefoot Tours! (Link will open in new window.)
Here are a few of our favourite Maui pictures from that day.
Jungle Treetops...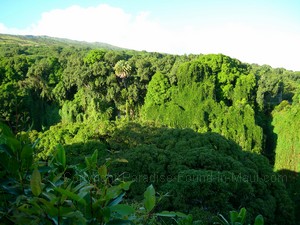 When we came to this part of the trail, everything opened up before us and we were able to see the lush jungle treetops and greenery covered cliffs that seemed to go on forever. The incredible lushness of the greenery never ceased to amaze me!
The Bamboo Forest...
Another highlight of our trip with Hike Maui on the Pipiwai Trail was
the bamboo forest.
The bamboo forest was enormous, and stretched on as far as the eye could see.
Do you what really surprised me about bamboo? It's capable of growing to its full height in only 3-4 months!









Gorgeous Flowers...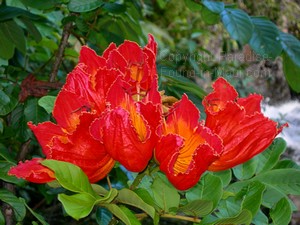 Here is a picture of my absolute favourite of all the flowers we saw in Maui: The African Tulip.
I just loved the combination of the rich red with the orange accents on their blooms. We saw numerous African Tulip trees throughout our day of hiking... we'd look up to see a gorgeous green canopy dotted with these stunning blooms above us!
A Wild Banyan Tree...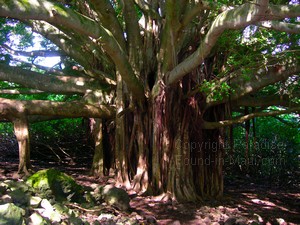 And of course, no jungle hike would be complete without coming across at least one banyan tree, and this one was no exception!
We just loved the way the light filtering through the jungle seemed to make this tree look like something out of a fantasy movie... so pretty!




Want to See All of This Like We Did?
You have 2 choices. If you're very budget conscious, or just prefer to go solo, you can definitely check out this trail on your own. It will cost you no more than the cost of gas to drive there, a picnic lunch and admission to the park.
However, if you think you'd enjoy learning all about the area's plants, wildlife, and history from an experienced guide like we did, then I highly recommend you consider going on this adventure with Hike Maui. You can get more information on this tour, available dates and pricing from Barefoot Tours. (Link will open in new window.)
Why do I recommend Barefoot Tours? Click here to find out!
More articles of interest:
1) To read all about our day of hiking on the Pipiwai Trail with Hike Maui, click here! You won't believe it when you hear about who our hiking companion was!
2) Go to Maui Pictures: Some of my Favourites!