Hana Airport: Read This Before You Book Your Flight to Hana!

What to Expect, Car Rentals, Amenities
This page may contain compensated affiliate links. For more information, please read my disclaimer.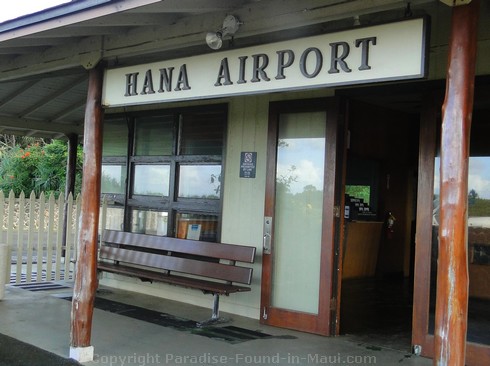 The small single-runway Hana Airport isn't suitable for most people's arrival in Maui. But for a select few, it might be just right!
Find out if flying into this tiny spot is right for you, the name of the only airline that offers flights here, what to expect in terms of airport amenities, plus must-read info about car rentals.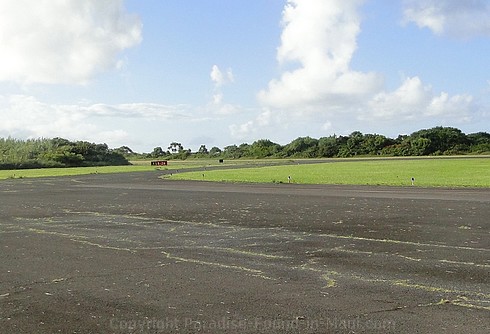 A Must Read Before You Book a Flight!
Transportation and Car Rentals
There is no taxi service available, and no public transit.

Unfortunately, there are no car rentals available here either.

So how do you get around if you book a flight here?

Well, Hana town itself is pretty small, and once you get there, you could walk to most places in town.

But to get from the airport to wherever you're staying? That's the tricky part.

Guests of the Travaasa Hotel Hana have the option of using the resort's shuttle service (contact the resort for details.) If you're staying elsewhere, be sure to check if they offer a shuttle service to and from the airport.

Worst case, if no shuttle service is available, you can just arrive in Maui via Kahului airport, pick up your car rental there, and drive instead instead of flying.
---
No Car Rentals at the Hana Airport A Problem? Drive the Road to Hana Instead!
The Road to Hana is a gorgeous drive - I generally don't like driving trips, yet I've done this drive more than once, with plans to do it AGAIN! Trust me, it's out of this world! Find out more...

My Top Tips for Driving the Road to Hana


---
Only Two Airlines Offer Flights to Hana

Before October 1st 2012, there was only 1 passenger airline flying into this airport: Pacific Wings. However, starting October 1st, you'll be able to fly into Hana via Mokulele Airlines as well (and for only about half the price that was being charged by Pacific Wings!)
Find out more details about flights to Hana, Maui.
Or, go straight to
booking a flight to the Hana Airport...
---
What to Expect At
The Hana Airport Terminal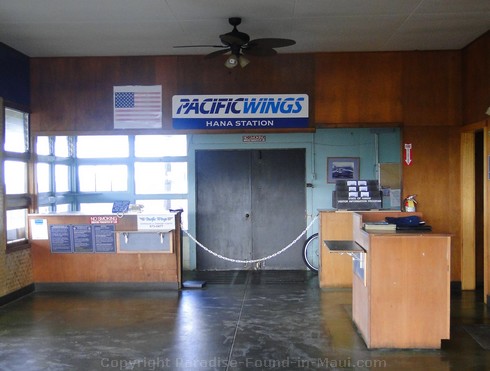 You'll never have to worry about getting lost here, or not being able to find the baggage claim area. The terminal here is a cute little one room building that you can't miss.

Amenities
Well, since this is a rather sleepy little spot, there's not much in the way of amenities.

They've got washrooms if you hear nature calling.

Need to make a call? They've got a handy dandy payphone right outside.

Restaurants
If you're thirsty, you can help yourself at the Coca Cola machine outside. But if you're hungry, you'll have to wait until you get to the town of Hana to buy some good eats. When we were here, there wasn't even a vending machine with potato chips, let alone a restaurant, so I recommend that you pack some snacks with you before you arrive.

Directions to the Hana Airport

Along the Hana Highway where it intersects with Alalele Road, you'll see a large green sign on the inland side of the road reading "Hana Airport." Turn towards the ocean onto Alalele Road. This will turn into Airport Road, and you can follow that all the way to the end!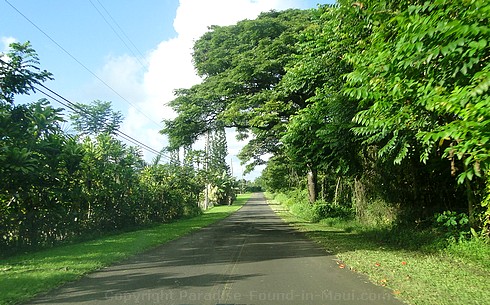 Considering the fact that this place is not exactly hopping, there is tons of parking available and it's all free.

How Far is It from Hana to the Airport
It's located about 3 miles northwest from town.
Map
Flights to Hana...

If you want to know more about which airlines you can choose from, ticket prices, which routes are the cheapest and all that good stuff, click here for more info on flying to Hana...

---
Nearby Attractions...
---
Find Places to Stay in Hana
---
---
Did you find my site helpful?  Please spread the word and share it with others!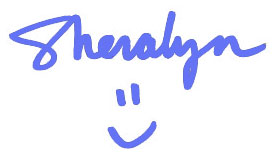 ---