Royal Lahaina Luau Review

This page may contain compensated affiliate links. For more information, please read my disclaimer.
The Royal Lahaina Luau is small on price, but puts on a big show that was easily just as good as any of the other Kaanapali luaus.  In this review, you'll see who should go to this luau, plus, get a virtual tour!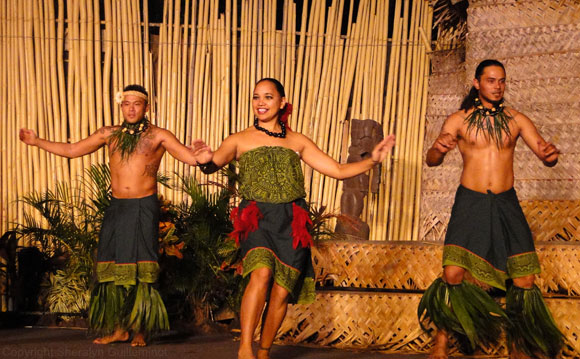 Take a Virtual Tour of the Grounds

To get us in the mood, we got lei'd with a free shell lei as soon as we arrived.  Perfect! 

They were also selling heavenly plumeria leis, 1 for $12 or 2 for $20.  This was a great price since even Costco sells them for $10 each.
Next stop, the open bar for a drink!  We had purchased the premium seating, so we were given a free tiki mug, and at the bar, had access to their premium slushy cocktails for free!  They were delicious, so be sure to try one if you can!
(By the way, the tiki mug you get is pretty good - I still have mine and love the fact that it survives the dishwasher just fine.)

Souvenir shopping is available also - I have several masks like these and a few tikis at home.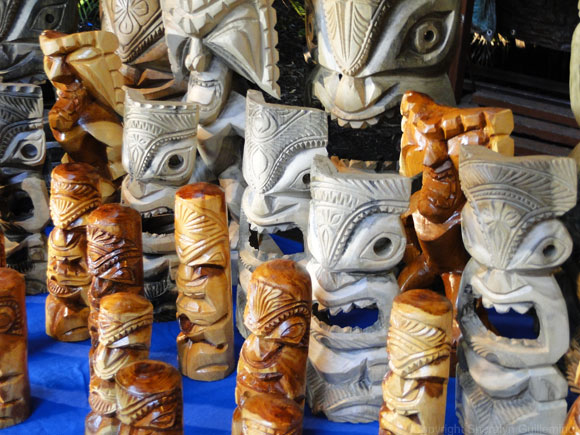 And since you'll be right on the beach, be sure to stroll over there too!  There is a traditional Hawaiian Outrigger canoe that's cool to see, and the ocean view is gorgeous!

Royal Lahaina Luau - Review of the Buffet

Although I've had better food at other luaus, the buffet here was good for the price, and you definitely won't leave hungry.

Here are some of the cold salads: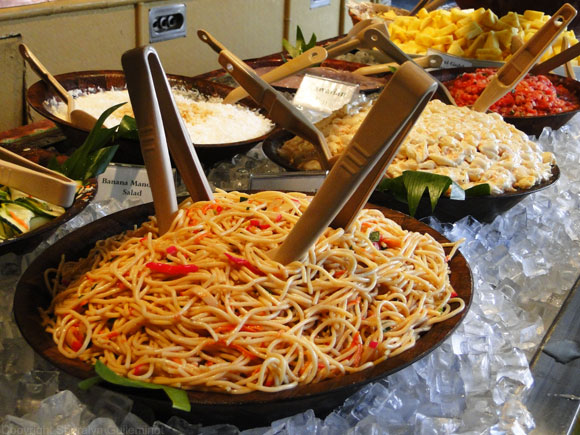 And you also get luau staples such as Shoyu Chicken, Kalua Pork, Teriyaki Steak, Fish, Fried Rice, Molokai Sweet Potatoes, vegies and assorted deserts.

If you have kids, they will LOVE the specialty kids buffet - this is the only luau I've seen with this feature, and it was a big hit with my kids - lots of familiar foods that even the pickiest eater would like.
Royal Lahaina Luau - Review of the Show

I have to say, the show was fantastic and easily kept pace with all of the more expensive hotel luaus.  I wasn't expecting much due to the bargain price of our tickets, so this was an enormously pleasant surprise.
The blowing of the conch shell marks the start of the show - you can feel everyone perk up in anticipation!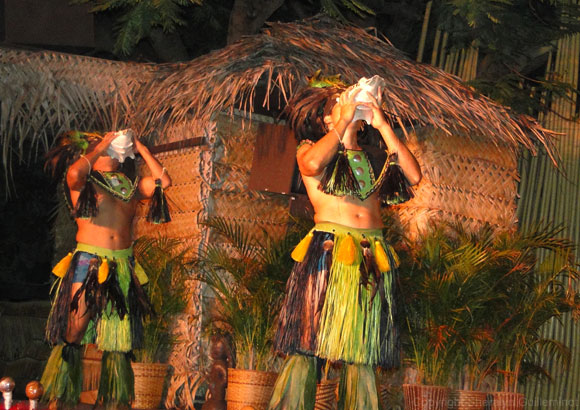 The show features hula and song from all over Polynesia...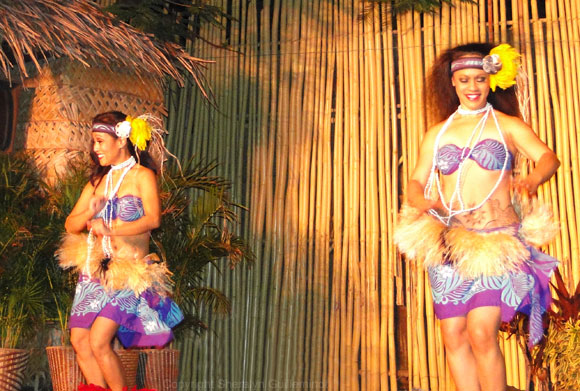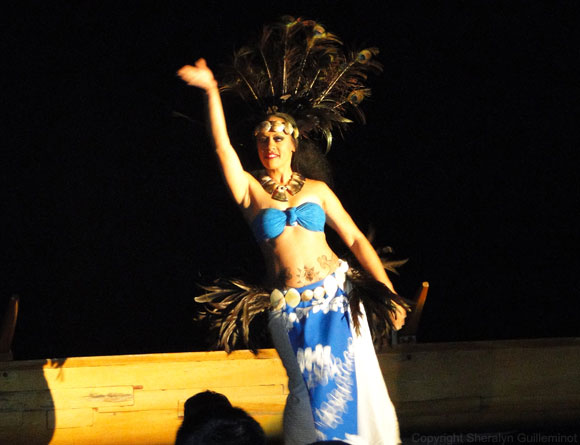 I always love seeing them dance with the poi balls (she's still wearing them in this photo, but will dance with them in a minute...)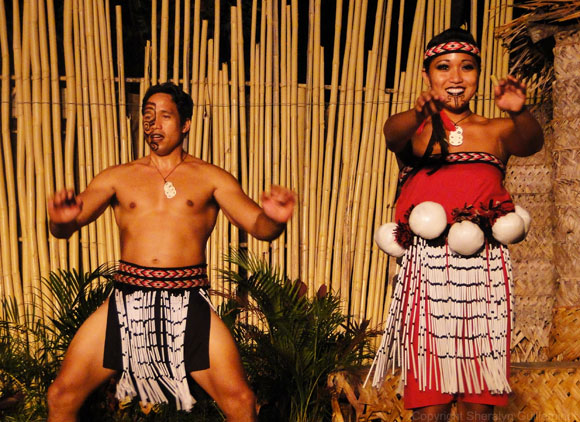 They also did a traditional dance with the only sound coming from the beating of the drums and chanting.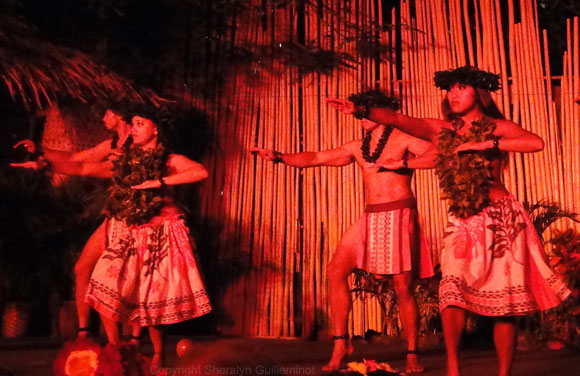 They claim that their fire knife finale will "dazzle" you, and it's true.  Really.  I know that sounds cheesy, but get this...
Their fire knife dance finale features more fire knife dancers than any other luau I've seen (and I've seen a lot of luaus!). 

On top of that, this is the only luau where I've ever seen the women dance with the flaming torches.  It's an incredible site to see, so "dazzle" is truly the right word for it.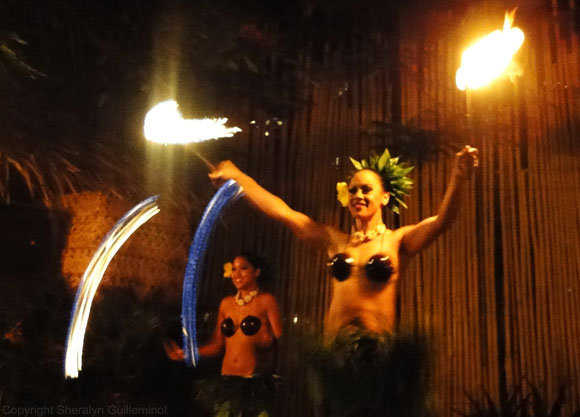 Who Should Go to This Luau

If getting the lowest price is your top priority, then you can't go wrong with this choice. 
It is the lowest priced luau on the island, and honestly, the show they put on was just as entertaining as the more expensive luaus elsewhere.
If you have kids, this is a good choice since they allow kids under age 6 to go for free.  Also, kids age 6-12 cost only 30 bucks, which is less than half the price you'll pay to take them to most other luaus (price range $50-$90.)  And don't forget that this is the only luau that offers a special buffet that has lots of kid-friendly food choices.
Who Should Not Go to This Luau

If the food is really important to you, then you can get a better buffet, with an equally good show, elsewhere (but you'll pay more).
My favourite luau buffet can be found at the Drums of the Pacific Luau.
If you don't like buffets, then go to the Feast at Lele's luau where you'll get a gourmet multi-course meal served to you at your own private table.

Directions to the Royal Lahaina Luau

Use the map below to find directions from anywhere on the island.
Once you get to the Honoapiilani Highway, look for a turnoff onto Kekaa Drive.
There will be a sign at this intersection, on the ocean-side of the highway, saying "Kaanapali Beach Resort" followed by a super short road that leads to a T-intersection. 
Head onto that super short road and turn right onto Kekaa Drive - follow it all the way to the end and park at the Royal Lahaina Resort where the luau is held.
Insider Seating Guide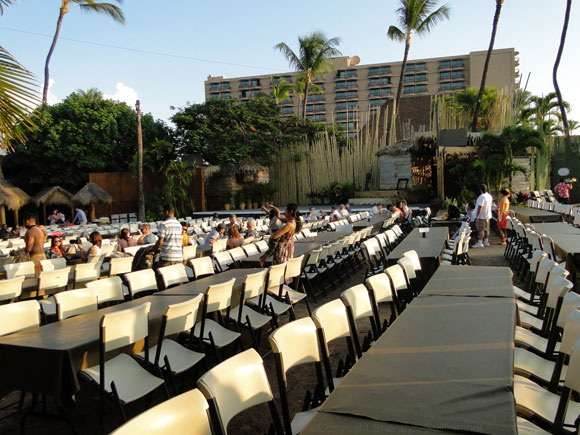 There are 3 rows of tables placed end-to-end. 
Premium Seating

The first row is 12 seats deep - this is the premium seating.  You can only purchase these seats directly through the Royal Lahaina Resort. 
In addition to the best seats in the house, you get the free tiki mug I mentioned earlier, priority access to the buffet, and an orchid flower lei. (current at the time of this writing)
Standard Seating

The standard seating is in the 2nd and 3rd rows of tables. 
Row 2 is 8 chairs deep, and row 3 varies from 6-12 seats deep.
Insider Tip: It's RUSH Seating!

As is typical at almost every luau on the island, it's rush seating - the sooner you get in line for the luau, the closer to the stage you'll be seated within your category.  (The only exception to this rule is the Old Lahaina Luau.)
Where to Buy Tickets for the Royal Lahaina Luau

If you want the premium seats it'll cost you an extra 30 bucks per adult and the only place you can get these is directly through the Royal Lahaina Resort's Luau website. (current at the time of this writing)
If you'd prefer standard tickets, then I recommend you use a company that I use a lot: Barefoot Tours. 

Here are a few of the reasons why I like them, and why I recommend you book through them too:
they have a low-price guarantee, so if you find a lower price (before you book obviously), just let them know and they'll match it
booking everything in one place means if you have any questions, there is only 1 company that you ever need to call or e-mail about it - this is one of my favourite things about booking with them - it simplifies my life!

they're a company I trust to treat you right, a local company that's been in business for many, many years
I do make a small commission if you use one of my links to book through them - it's not a lot, but it helps to pay for the expenses of running this site, and doesn't cost you anything extra.  So if you use one of my links to book through them, thank-you SOOO much - I can't tell you how much I appreciate your support!
Home > Maui Luau Reviews > Royal Lahaina Luau Review

Did you find my site helpful?  Please spread the word and share it with others!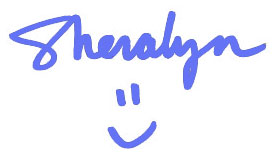 ---